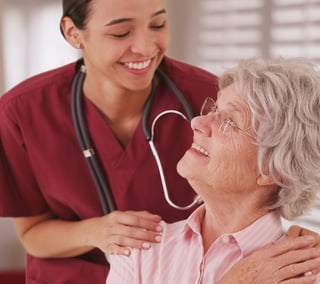 A diagnosis of Dementia or Alzheimer's evokes a variety of emotions. Thoughts range from sadness for your loved one to the stress of learning how you will care for them. While our hearts may be in the right place for wanting to care for them ourselves, most times it simply isn't possible. Individuals who need to seek memory care require attention that working families are unable to provide. Placing a loved one in memory care doesn't mean you've abandoned them; it means you've decided they need the best care possible.

Related Blog: Helping Transition Your Loved One Comfortably into an Assisted Living Community
Here's what to look for when choosing memory care for your loved one:
Daily Care
A daily schedule and routine are important for Dementia and Alzheimer's residents. Considerations for how the individual used to schedule their day and what time of day they function best makes planning schedules easier for the staff. Inquire about how staff approaches aiding in personal care with residents. A well-educated staff will know how to identify what residents can do for themselves and when they start to need more assistance.
Staying on schedule with meals and maintaining good nutrition is another important part of the resident's care. What are the dining options? Depending on your loved one's stage of Dementia or Alzheimer's, they may enjoy dining with others or they may prefer dining in their room. Ask about access to snacks and other foods outside of scheduled meal times. If possible, speak with the chef or a nutritionist about special diets and food allergies.
Medication oversight is crucial as residents continue to experience a decline in memory and cognitive skills. How medications are given, when they are given, and where it is documented is something family members need to find out during their initial visit.
Perhaps one of the most wrongly-perceived images of a memory care community is that of residents sitting around, doing nothing. In a high-quality community, nothing should be further from the truth. Ask about opportunities for creative activities, like music and art. Any activities designed to get residents interacting with others and practicing cognitive or physical skills are helpful in their care. While there is no cure for what they are experiencing, activities they enjoy and that keep them moving, greatly add to their quality of life.
Peace of Mind
You've toured a community, spoken with staff, and feel good about it being the right place for your loved one. Still, the thought remains of how you will truly know they are receiving the care promised. A high-quality community will be one with an open door policy. It's a place where family feels welcomed at all times and where they are invited to share in meals with their loved ones. For a family that lives far away, seek communities that offer video chat and access to the camera in common areas. By logging in with a password, a family can check in on common areas and see how the day is progressing for their loved one.
Choosing a memory care community for your loved one that takes care of their needs and gives you peace of mind is made easier with a little research. Arm yourself with the questions and considerations mentioned above and don't be afraid to tour a community more than once. Your loved one deserves the best quality of life possible. Trust a professional staff trained in this specific type of care to guide your loved one along their journey.
At The Inn at Sarasota Bay Club, we offer the warmth of home with caring staff who treat residents with love and respect. For more information or to schedule a visit, contact us today.