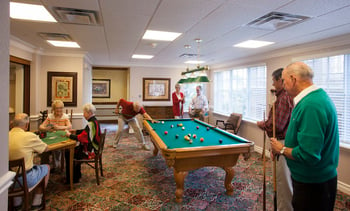 A luxury retirement community for independent living should provide residents will all the pleasures of home and much more. Selecting the right independent living community for you or a loved one may take time, but it's important to know exactly what to look for when choosing a new community. Sarasota Bay Club is a beautiful, upscale luxury retirement community nestled on the bay's waterfront. If you're interested in only the best in luxury independent living, take a few moments to discover what Sarasota Bay Club has to offer.
Related Blog: Luxury Independent Living Communities vs Home Health Care Services

Amenities
Sarasota Bay Club has many convenient, luxurious amenities and services to accommodate all residents. Enjoy swimming in a heated pool, a gourmet lunch overlooking the bay or a quick workout in a cutting-edge fitness center complete with equipment developed by the Keiser Institute on Aging, an award winning institution. Just a few of the other exciting amenities offered include:
Library
SunTrust Bank
Conference Room
Fully Stocked Bar and Lounge
Massage Therapy Studio
Billiards Room
Private Dining Rooms for Special Events
Heated Spa and Pool
Game Room for Cards and Much More
Community Features
At Sarasota Bay Club, 24/7 concierge and valet service is available to meet the demands of any busy schedule. Seasoned emergency response personnel are on standby around the clock as well, prepared to respond to any crisis immediately. A Life Alert System ensures assistance is only a moment away at all times. Contact the staff to schedule a visit from housekeeping or maintenance staff during a time that works best for you.

All television costs, utility bills, transportation, storage and cleaning needs are essentially covered by Sarasota Bay Club, making this luxury retirement community among the most attractive available. Residents spend their time pursuing passions and having a good time instead of worrying about bills or expenses.

Nearby Attractions
It's a very short commute to Sarasota Jungle Gardens and the Van Wezel Performing Arts Theatre. Sarasota Bay Club is situated between three beautiful state parks and is within walking distance of many popular venues for shopping or entertainment.

Contact Sarasota Bay Club over the phone or online today to learn more. If you're looking for the best luxury retirement community in the area, let the Sarasota Bay Club serve as a shining example. You or a loved one will feel happier than ever living in such a thriving, gorgeous community.