It's no secret that Sarasota has a lot of cultures to offer. Being an art town with many performing arts available, Sarasota has no shortage of great shows. With more than 500 performances every year, the arts are alive and well here.
Related Blog: The Top 4 Coffee Houses in the Sarasota Area: Enjoying a Great Cup of Joe


Where to See a Live Show in Sarasota
Due to the many theatres in Sarasota, it can be hard to know where to go for your next show. But don't worry! Whether you are in Sarasota for a quick visit, seasonal stay, or the long term, here are the five best places where you can catch some entertainment:


1. The Van Wezel Performing Arts Hall
Often referred to as "the best place for live theater in South West Florida," Van Wezel highlights both touring artists and homegrown talent. Located right on the shores of Sarasota Bay, the Van Wezel is one of the most picturesque locations for any performance in the area.
With seating for over 1700 guests and nearly 50 years of history behind it, this hall continues to be one of the top destinations for virtually any performance, including:
Ballet performances
Popular comedians
Spectacular Broadway musicals
World-class symphony orchestras


2. The Historic Asolo Theater
Located on Tamiami Trail near the Ringling Museum of Art, this venue continues to be one of the finest theaters for cultural entertainment. Its architectural details are something to be admired as well.

The Asolo Theatre offers theatrical excellence, hosting fifteen productions every season featuring classic retellings and newly commissioned works.

Equipped with a Hearing Loop System and complimentary amplification headsets in the theatre lobby, this is an ideal spot for those looking for enhanced clarity during theatrical performances of all types.

One definite feature of the Asolo is its venue itself. No matter which shows you choose to attend, make sure to arrive early enough so that as part of your enjoyment experience, you can enjoy light refreshments before taking your seat!


3. Florida Studio Theater
Florida Studio Theater (FST) is a top venue for local performing arts. FST produces four full-scale productions in the spring and fall, featuring new works and classic reinterpretations. The FST is the largest theatre in Sarasota, with diverse programs serving more than 230,000 live attendees annually.

The FST is subdivided into five sections depending on the type of shows showcased:
Mainstage—showcases the best in contemporary theatre
Cabaret—hosts the most popular light theatrical entertainment
Stage III—for plays with unique content and forms
Children's Theatre—focused on young audience performances
FST Improv—offers new shows every week
In addition to its main stage season, FST has all kinds of events throughout the year, including comedy nights, jazz performances, film screenings, improv workshops, and much more. The community here is very welcoming; be sure to stop by for a show soon!


4. Sarasota Opera House
Home to the Sarasota Opera, this venue is also a center for theatre and dance. Located at 61 North Pineapple Avenue in Sarasota, Florida, the Sarasota Opera House is a stunning theater that hosts many of the world's most talented opera singers.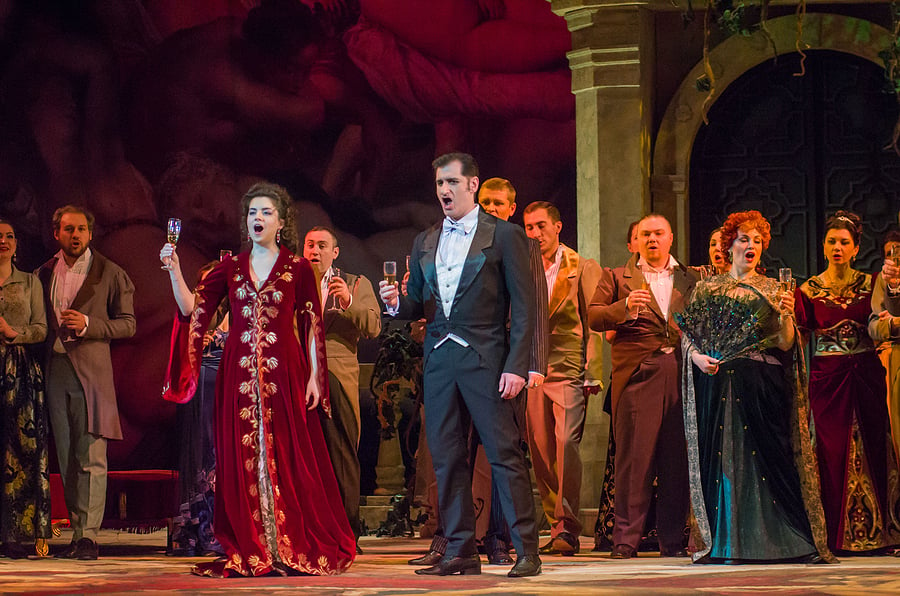 There is nothing more enchanting than a night spent at the Sarasota Opera House, and it doesn't have to be expensive or elaborate. The inside of this historic theater has been beautifully renovated so that you can enjoy great opera performances in an elegant setting with scenic views from every seat. Plus, there are fine restaurants and shops close by for after-show entertainment!


5. McCurdy's Comedy Theatre
Located in the heart of historic downtown Sarasota, McCurdy's Comedy Theatre showcases a wide array of comedy, from stand-up to improv and sketch comedy. In addition, they offer regular workshops for those who want to improve their comedic skills!

With seating for 250 people due to the coronavirus, this venue hosts many shows throughout the year with performers worldwide. Here they are committed to providing top-quality entertainment and food service in one location.

Plus, their prime location only adds to the pleasure of your time there! If you are looking for the perfect spot to have a good laugh in Sarasota, then McCurdy's Comedy Theatre is the place to be.
---
Sarasota is a lively city, with many things to do. One of the best ways to enjoy it all is by catching a show at one of these five top places in town. From live theater and musicals to comedy clubs, there's something for everyone here!

If you're thinking of making Sarasota your seaside home, contact us today at Sarasota Bay Club to schedule a private tour and explore our beautiful community.