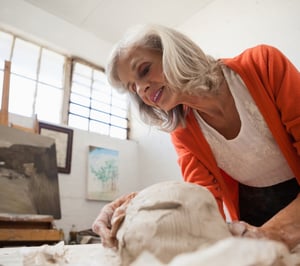 Older adults with dementia still have the desires to feel engaged in life, be successful, and have fun. Even though they can't enjoy many of the same activities they used to, there are plenty of things seniors can do to fulfill these needs. Being happily engaged in an activity has been shown to reduce agitation, anxiety, depression, and anger. It may even reduce the need for some medications. It's important that the activities are "fail-free" and have no wrong or right way of doing them so that the senior doesn't feel overwhelmed or stressed out. Doing these activities with a loved one also strengthens bonds and connections shared between the both of you.
Related Blog: Preventative Measures You Can Take Against Dementia and Alzheimer's

Since people with dementia often remember long-term memories, their minds seem to recall usually only their younger years. This is a terrific chance to form a connection with them through their past memories. Here are 10 great activities for people with dementia that will boost self-esteem, improve bonds, and keep seniors thriving!


1. Browse Through Old Photo Albums
Looking through childhood/early adulthood photo albums with your loved one is sure to put a smile on both of your faces. You can also look through old magazines such as Life or Time, or old newspapers. Long-term memories will flutter around senior's minds as they relive the memories through all the vivid images and text.


2. Read Out Loud
Books are a great escape from the world and a way to let imaginations run free. If your senior has a favorite book, read it out loud to them. Let them hold the books, smell the pages, and feel them as well. Older books have a very distinctive "old book smell" which may jolt old memories. Reading calming poetry or exploring new books are also wonderful options to relax and unwind.


3. Make a Memory Bag
Inside of the bag, fill it with items that are reminiscent of the senior's late teens and early twenties. Scents work very well since scents are strongly tied to memories. Distinct soaps, perfumes, aftershave, pine cones, holiday scents, peppermint, etc., can all bring back old, delightful memories. Other items you can include could be rings, small toys, photos, articles of clothing, and anything else you can think of!


4. Sing Old Songs
Singing is good for the soul! It allows seniors a chance to let loose. If they love the holidays, sing holiday carols. If they grew up attending church, sing old hymns with them. Classic sing-a-longs in music classes were very popular before we acquired computers and electronics, so seniors may remember old songs dating back from when they were in elementary school. You may be surprised at how much they remember!


5. Listen to Their Favorite Music
Download songs onto a playlist containing music from their teenage/young adulthood years. Whatever they were into, you're sure to find it easily available on the internet.


6. Go On a Nature Walk
Nature is amazing for unique sensory experiences such as listening to birds singing, touching wet grass, stopping to smell the roses, flying a kite, feeling the sunshine on your back, and having a picnic. Recreating fun memories like these and doing their favorite outdoor activities will make seniors feel young again.


7. Enjoy Favorite Treats
Old-time candies, milkshakes, and other delicious indulgences were common and very cheap when seniors were little. Many companies nowadays specialize in nostalgic candy where you can find all the old favorite types of licorice, soft peppermint sticks, hard candies, etc. Find out what their favorites were and enjoy munching on them together!


8. Connect with Animals
Petting zoos, horse farms, family farms, or pet stores all offer opportunities to touch and talk to many different kinds of animals. If your loved senior grew up on a farm, they may remember what it was like and tell you interesting stories about old pets and their experiences.


9. Reminisce Over Childhood Toys
Nothing will bring memories back faster than familiar childhood toys. From pick up sticks, marbles, checkers, dolls, and sock monkeys, antique toys from the 30's, 40's, 50's and on can be found on online antique toy websites or eBay. Bring these toys when you visit, ask questions about them, play or build together, and simply enjoy each other's company.


10. Re-Learn Knitting/Crocheting
Even though seniors' memory or cognitive functions may be declining, often the muscles remember what the brain forgets. Interestingly enough, if your senior once loved to knit or crochet, they may still remember how to. Familiarize them with the materials (needles, yarn, etc.), and encourage them to try again. Refresh their memory and see how quickly they pick it back up. It can be a great hobby to make things for family members, beat boredom, and feel accomplished every day.
Even though your loved one has changed due to dementia, they still crave companionship and human connections. Using these activities can enrich both you and senior's lives, try a few of them out today!