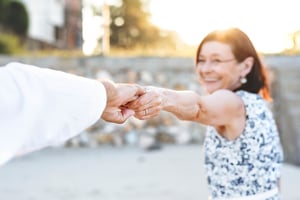 Perhaps the one condition most associated with Alzheimer's disease is that of memory loss. While this is a significant factor for people suffering from the disease, other conditions from Alzheimer's can result in physical changes. The types of changes and when they occur are different for everyone. No matter what the stage of your loved one's disease, Bayshore Place, located at the Inn at Sarasota Bay Club, provides assisted living care second to none.
Related Blog: What Part of the Brain Does Alzheimer's Affect
Alzheimer's Disease and Your Body
The true cause of Alzheimer's disease is not yet known, however, doctors associated the disease to the brain. A build-up of proteins forms clusters on the brain called tangles and plaques. These clusters kill healthy brain cells and disrupt normal brain activity.
The main area of the brain that controls memory function is where the clusters originate. As the disease progresses, the clusters spread and affect other areas of the brain. This can result in a variety of changes to one's body, including:
A loss of balance and coordination

Shuffling your feet as you walk

Trouble standing or sitting in a chair

Stiff muscles

Trouble eating or speaking

Insomnia

Trouble controlling your bladder or bowels

Seizures or uncontrollable twitching

Many of the physical changes associated with Alzheimer's disease affect a patient's daily activities. Your loved one may need assistance with what was once simple tasks, such as brushing their teeth. Their memory loss may lead them to have poor hygiene as they forget to bathe or wash their hair.
The Affects of Advanced Alzheimer's Disease
While research continues to make discoveries when it comes to Alzheimer's Disease, sadly, there is currently no cure. Watching your loved one decline is difficult. Advanced medical issues associated with the disease are:
Pneumonia

Infection

Heart Attack

Due to difficulty walking, patients with Alzheimer's disease are more prone to falls. Problems with chewing and swallowing can lead to poor nutrition and weakened immune systems can result in a host of additional problems.
Seeking proper care for your loved one is essential to providing them with professional care while protecting your own health. Caring for a loved one with Alzheimer's Disease is emotional, stressful, and often physically draining.
The Inn at Sarasota Bay Club & Bayshore Place
Choosing the right assisted living and long term care community for your loved one can provide you with much-needed peace-of-mind. At the Inn at Sarasota Bay Club, we take great pride in our caring staff and professional services that comprise our Bayshore Place.
As a secure assisted living and skilled nursing community, Bayshore Place provides a safe place for your loved one to call home. Bayshore Place is located on the second floor of the Inn at Sarasota Bay Club and is part of the beautiful complex that overlooks the Sarasota Bay.
Family care and communication are among our top priorities at Bayshore Place. We welcome family members 24 hours a day and for those who live away, we can arrange Skype visits with your loved one.
Having Alzheimer's disease does not mean that your loved one can't have a good quality of life. Our Bayshore Clubs offer opportunities for exercise games and crafts and our staff takes great care to encourage and support residents.
Learn more about the services of Bayshore Place at the Inn at Sarasota Bay. To schedule a no-pressure tour of our community, contact us today. We'll provide you and your family with a comprehensive look at our medical, therapeutic, and lifestyle services.
Let us show you why so many entrust their loved ones with the professional, friendly, and caring Bayshore Place team. We look forward to meeting you and discussing your loved one's needs and our services.