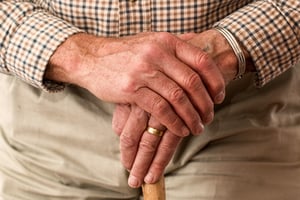 While there is no cure for Alzheimer's disease, researchers continue to make discoveries that may lead to drugs that stop or slow disease progression. There are 5.8 million people living with Alzheimer's disease in the United States, with an estimated 14 million by 2050, according to the Alzheimer's Association. The five drugs currently approved by the U.S. Drug and Food Administration—and a sixth approved globally—help to improve symptoms like memory loss. As researchers continue to learn how the disease disrupts the brain, they can target ways to better combat the disease that affects so many.
Related Blog: What Part of the Brain Does Alzheimer's Affect
Current Research for Alzheimer's Disease
Microscopic clusters of the protein beta-amyloid, known as plaque, on the brain are a common sign of Alzheimer's disease. Researchers are targeting ways to prevent, or destroy, this harmful protein. This and other advances in research for Alzheimer's disease include:
Obstructing the protein 'Fyn'—Another protein, Fyn, becomes overactive when combined with beta-amyloid. The combination of the two proteins results in a disconnect between nerve cells in the brain. Saracatinib, a drug initially developed for possible cancer treatment, is now in testing for Alzheimer's disease. The drug showed great promise in trials and lab research due to its ability to control Fyn in the body.
A focus on heart health—Researchers continue to discover an association between heart and blood vessel health and brain health. Studies show that conditions such as heart disease, stroke, and high blood pressure can increase one's risk for the disease. While researchers study ways to develop the best drug for treating the connection between the two, they promote eating a heart-healthy diet and exercising. Not only is it simply a healthier way to live but it is a possible step in the right direction for either preventing or delaying, the onset of Alzheimer's disease.
Neurofilament Light—A blood test that detects the neurofilament light chain can possibly detect brain damaged cells in people before an Alzheimer's disease diagnosis. The blood test can serve as an important biomarker for early detection and for monitoring progression. More research about the neurofilament light chain protein and its effect on Alzheimer's disease is needed before it will receive FDA approval. Still, researchers remain optimistic about their findings to date.
Living with Alzheimer's Disease at Bayshore Place
Progress with advanced treatments and research, as with any disease, is highly dependent upon funding. Research has come a long way but there is still a lot of work to be done. While universities, scientists, research labs, and others continue to investigate ways to combat Alzheimer's disease, those currently living with it deserve quality care.
Bayshore Place, part of the Inn at Sarasota Bay Club, is a secure assisted living and skilled nursing community in Sarasota, Florida. Located on the second floor of the Inn, Bayshore Place provides a highly-skilled and caring staff for your loved one.
Watching someone struggle with Alzheimer's disease is upsetting and stressful. Caring for your loved one with the disease can result in harm to your own health. As daily tasks become harder to do, finding professional care that provides you with peace-of-mind is essential for everyone involved.
At Bayshore Place, we'll find a schedule that fits your loved one's lifestyle. There are exercise games and craft clubs, along with excellent on-site medical services.
Just because your loved one has Alzheimer's disease doesn't mean they can't still enjoy a great quality of life. At Bayshore Place, a family may visit 24 hours a day and we take great pride in keeping you informed about your loved one.
To learn more about what we offer and to meet our great staff, contact us today. You'll soon learn why so many trust Bayshore Place as the place for their loved one.