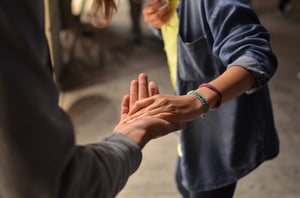 Transitioning into the role of family caregiver for an aging parent or loved one is never easy. Balancing the demands of your own life while dealing with the needs of your loved one is often stressful and emotional. There are skills that can help you to prepare for the transition so that you can find the best way to help everyone involved—especially you.
Related Blog: What is Caregiver Burnout and How to Avoid It
Communication is Key
In your role as the primary caregiver, you are the point of contact for a variety of providers. This may include doctors, pharmacists, insurance representatives, and others. Understanding the details involved with your loved one's health, medicine, and expenses is important yet overwhelming. To help ease your stress, consider these helpful tips for strong communication:
Keep a journal—Writing down information before, during, and after appointments is helpful in many ways. A journal can serve as a helpful resource for reviewing notes about a medicine or as a reminder for questions you want to ask a doctor.
Streamline your concerns—We all know that our time with a doctor is usually limited. You may have a million thoughts racing through your mind, however, preparing your top three or four concerns is best. Focusing your concerns on primary issues will result in a better appointment for your loved one.
Patience is a virtue—Again, those pesky million thoughts are racing through your mind and making you want to speak out. Take a deep breath and try not to interrupt your loved one when they are talking during an appointment. They deserve to be heard and while you may follow up with questions or comments, letting them have a voice is important to their care.
Experts agree that communication is one of the most critical skills for family caregivers. Ask your loved one's physicians and providers how best to communicate with them. You'll find most are appreciative that you ask and you too will feel relieved about better communication.
Take Care of Yourself
In order to be there for your loved one, you must take care of yourself first. It is important to realize that you can't do it all and that it is perfectly OK to ask for help. There's a saying that "you can't pour from an empty cup" and that is especially true when it comes to your role as caregiver.The following tips can help you to find as much balance as possible during such a stressful time:
Join a support group—When it comes to caregivers, you'll quickly find you are not alone. Joining a support group can help you to meet with others in the same situation, to share ideas and concerns, and to just support one another.
Keep your doctor appointments—You are so busy taking your loved one to appointments that you neglect your own. Don't let this happen—keep your appointments and tell your doctor about any stress and anxiety you are feeling. Set health goals that will help you sleep and allow you to exercise.
Know that you can't do it all—Set realistic goals. Recognize what it is you can do for your loved one and break these tasks into achievable goals.
About Sarasota Bay Club
Knowing your loved one is cared for creates a peace-of-mind that is priceless. At the Sarasota Bay Club, we provide services and professional care that helps keep your loved one safe and happy. From independent living to assisted living and beyond, we take great pride in providing the best quality of life possible.
If you and your loved one are searching for the best possible luxury living community in Florida, then visit us to learn more. Call (941) 552-3284 or contact us online to schedule your personal tour today.