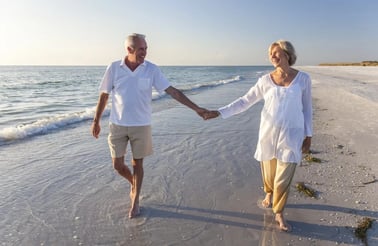 No longer having to set your alarm clock after retirement may seem like a dream come true. While you may no longer have a 9-5 job full of responsibilities, retirement is no time to sit still. Remaining social and interacting with others prevents isolation and loneliness, which can lead to depression. Exercising after retirement is also important for maintaining balance, muscle function, and more. Whether it is walking, playing golf, or swimming, exercise helps to prevent stiffness and can even improve your mood. At the Sarasota Bay Club, you'll find everything you need to stay social and remain active after your retirement. Here is just some of what we have to offer:
Related Blog: Why An Active Social Life is Important in Assisted Living CommunitiesPublished
how to get social during retirement
Interaction and meeting fellow residents is a great way to make new friends. Your social calendar can fill quickly with the large selection of activities—on-site and off—sure to peak your interest. In addition to the club's state-of-the-art theater, enjoy live music and other entertainment. Trips into Sarasota may include shopping or taking in a play at one of the local theaters, with dinner or lunch at a local restaurant.
Meeting new people isn't always easy at first. The relaxing and inviting atmosphere of the Sarasota Bay Club makes it easy to join social events by making you feel right-at-home.
Exercising Your Mind in retirement
Perhaps you've always wanted to learn how to paint but you never had time for an art class. Our on-site art studio is your chance to explore different forms of art and if art isn't your cup of tea, try woodworking. Creating something using your hands and your mind leaves you with a finished product and pride of your accomplishment.
Both card games and billiards require careful thought and skill. The game rooms at Sarasota Bay Club will challenge you mentally while invoking friendly competition among your peers. After your game, check out the fully stocked library featuring a wide selection of fiction and nonfiction books.
Exercising Your Body in retirement
Many current residents at the Sarasota Bay Club enjoy starting their day in the custom-designed heated pool. Water activities are known for their low impact on your joints. Another option for some light exercise is the club's fitness center with its state-of-the-art Keiser equipment. Friendly and helpful staff can show you how to safely use all fitness center equipment.
Chair aerobics, balance, and stretching classes are also great options for light exercise. For those wanting to simply go for a walk, Sarasota offers plenty of walking trails for enjoying wildlife and scenic views of the bay area.
The Sarasota Bay Club
With so many options, you might find yourself wanting to set your alarm! Once you participate and discover how much fun our activities provide, you won't want to miss your favorite ones.
In addition to the vast amount of opportunities to remain social and active, the club offers healthy dining options. Good nutrition is important no matter what your age and our chefs use the freshest ingredients available.
Should you experience a setback with your health, the Sarasota Bay Club has the medical resources to help get you back on your feet. From outpatient rehab to in-home care, quality care is just a phone call away. For more extended care, assisted living care is also available.
Remain social and active during your retirement by enjoying the luxury lifestyle you deserve. The Sarasota Bay Club offers everything you need to create the life you've always dreamed about. Discover the art of living offered at the Sarasota Bay Club by visiting us online or contacting us to schedule a personal tour. Learn more by reaching out to our friendly and professional staff today.