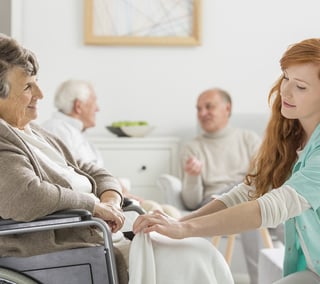 Making the decision to transition a loved one to an assisted living community is never an easy one. Many families struggle with the need to make that important decision, putting it off for as long as possible before beginning their research. If you're starting to see any of these critical signs, however, it's time to consider the move to an assisted living for your loved one.

Related Blog: Helping Transition Your Loved One Comfortably into an Assisted Living Community
1. Your Loved One Isn't Taking Their Medication.
You've noticed that bottles are piling up or that they show symptoms of conditions that should have been easily treated by their prescriptions. This is especially concerning if your loved one can't remember whether or not they've taken their prescriptions each day, which can cause them to take more than what is required for their daily dose.
2. Personal Care Has Become a Serious Concern.
Your loved one isn't bathing regularly or you aren't sure that they're washing their clothes as often as they should be. You may notice that there are stains on their clothes that indicate that they've been worn longer than they should have. Perhaps there are increasing dental problems or other issues that show that they aren't brushing their teeth. When personal care slides, it's often necessary to make a move to assisted living so that someone will be able to take care of those tasks with your loved one.
3. They Can't Keep Up With the House Anymore.
It's not just that the rosebushes have gotten a little overgrown or that they can't get upstairs to dust anymore. Rather, there's a thick coating of dust in rooms that are used regularly, the kitchen counters haven't been wiped down in weeks, and it's obvious that the carpets haven't been vacuumed in some time. When living at home becomes a health hazard, it's time to consider transitioning to assisted living.
4. Your Loved One Has Serious Memory Lapses.
Perhaps they are forgetful about a spouse or loved one that is no longer around, or they've been known to wander out of the house and forget how to get back. If these serious lapses in memory are becoming common, you will want to quickly seek further assistance.
5. Your Loved One Isn't Eating Properly.
Food preparation has become too much effort, or perhaps they no longer remember whether they've eaten a specific meal or not. You may notice that the cabinets remain empty unless you fill them, that there is often rotten or molding food in the fridge, or that your loved one has had some heavy, unexpected weight loss. Whatever symptoms you're noticing, keep in mind that a lack of interest in food is serious and shouldn't be ignored.
6. Your Loved One Has Experienced an Increasing Number of Falls.
They're no longer able to get around the house by themselves, and it's becoming obvious that living at home is a safety hazard. This is of particular concern if they live alone and there is a worry that they might not be able to reach help if they fall when alone.
7. Your Loved One is Struggling to Take Care of Bills on Their Own.
Overdue notices are piling up, the checkbook hasn't been balanced, or important bills--like rent or mortgage payments, the electric bill, or other necessary payments--aren't being paid on time. Financial health is just as important as physical and mental health for your elderly loved one, especially if they're struggling to pay bills that are important to their overall well-being.
Making the move to assisted living might not be easy, but it can really be the difference in quality of life for a loved one. When your loved one is struggling to care for themselves, they deserve to be in a place where they will be taken care of physically and mentally. In many cases, it's up to you to make that decision.