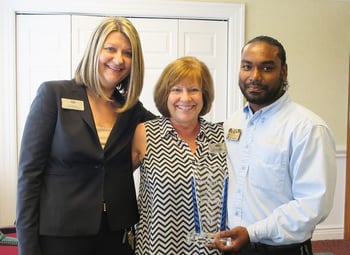 Errol Knott, Jr. ("Junior") was recently recognized as the "Rock Star" as part of Freedom Senior Management's "Walk the Talk" employee recognition program. Only one employee within the company is given this award each year. Junior earned the Rock Star award because he models the company values of attitude, integrity and teamwork daily.
Related Blog: Start the Best Time of Your Retired Years at Sarasota Bay Club
Director of Sales, Linda Ware, (photo center) nominated Junior. Linda explains: "Junior is always willing to help in any way he can. And, he does it with a smile and a positive attitude. We hear and see his interactions with residents and guests daily. He is always helpful, professional, friendly and willing to do whatever it takes to be of service. I'm proud to have him on our team!"
Junior's Director, Crystal Woodworth, (photo left), says that he is the backbone of the department, self-motivated and that with all he does, he never makes it look hard. She adds, "All the residents have stories about the ways he has helped them, touched them, met their needs in a positive way. He is an excellent choice for the Rock Star Award."
Junior was presented with a personalized glass trophy, a cash award, a paid day off, and an assigned parking space in recognition of his achievement. Congratulations, Junior!