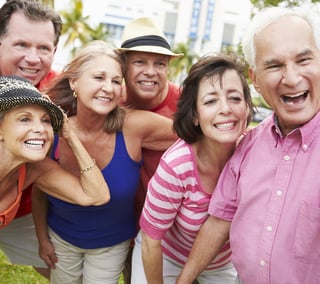 Keeping active is an important aspect of aging well, and social groups are a great way to do it. The Sarasota area has a wealth of opportunities for seniors to meet and mingle. Some groups offer special events, and other have weekly or monthly gatherings where you can bring your partner, or go to meet someone new. If this list does not provide you with the type of social stimulation you are looking for, check out some of the meetups available to local seniors, or ask your fellow residents for more ideas.
Related Blog: How to Maintain Your Luxury Lifestyle in a Sarasota Retirement Community
If you have been in the Sarasota region for 3 years or less, the Sarasota Newcomers Club is a perfect way to make new friends and find out more about this exciting area. The club sponsors luncheons, special events, and hosts an array of special interest groups to help everyone get better acclimated and feel more at home. Even if you have lived here for a while, the club is always looking for knowledgeable volunteers to help other people get to know the community.
This exclusive club was developed to give seniors and other singles an alternative to traditional bar and club activities. The organization sponsors a variety of dining, dancing, and other activities, as well as planned cruise trips. Members range in age from their 40's upward into the 70's and 80's. The club has something going on all the time, so be sure to check in often to learn about new social opportunities.
From ballroom dancing to exotic dance-themed cruises, this organization focuses on dancing for fun and health. Part of the Lakewood Ranch community, Dancing on the Suncoast is designed for the enjoyment of seniors, with a wide assortment of meetings and gatherings to help keep you active and excited. There are also special dance events designed for those with Alzheimer's and other memory loss conditions.
The Sarasota Senior Softball Association has been organizing softball leagues since 1997. In addition to local seniors, the association has a growing number of seniors who enjoy dual residency, favoring our Southern climate during the cooler months of the year. Come out and join in the fun, or just cheer on your favorite players.
Located near downtown Sarasota and in Venice, the Friendship centers puts together a variety of activities year round. From physical fitness activities to dance and dinners, you are certain to find something that interests you, tailored for the senior lifestyle. Geared specifically to the senior lifestyle, this organization has a wealth of information about events and social networks throughout Southwest Florida.
Sarasota Bay Club Alternatives
You don't have to go far from home to have a good time. At Sarasota Bay Club, we offer a wealth of opportunities for getting to know your peers and fellow residents. In addition to dining and strolls around the area, you can enjoy fine entertainment and activities such as:
Billiards and Card Games
Finding a Book in Our Lovely Library
Watching Movies with Other Residents
We are centrally located, which means you have ready access to area golf courses, shopping, and community events, such as local theater events. Sarasota's climate is perfect for year round activities, and you will find interesting events being held almost every week.
Sarasota Bay Club is a full service retirement community, with all of the amenities you'd expect from a luxury resort. From a multitude of senior activities, to a full range of physical and social programs, everything is designed for quality and fulfillment of life in your elder years. An active lifestyle has been shown to add many benefits to senior living, including a safe living environment, and maintenance-free living arrangements.