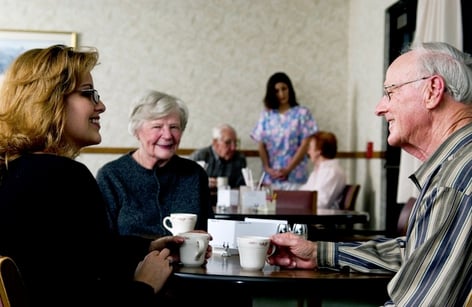 Caring for a loved one with Dementia can have challenges that affect the entire family as well as your loved one.

Related Blog: What are the Benefits of Memory Care in a Retirement Community in Sarasota, Florida
Yet, there are things you can do to help a loved one with Dementia daily:
Be positive in your communication

Limit distractions when communicating

When you speak to a person with Dementia, be clear and literal

If you are going to ask a question, make sure it is one they can answer

Be a good listener and understand that they are trying to communicate with you clearly, even when they can not
One of the most positive things that can be done is to assist them in finding a retirement community that has an advanced, caring assisted living community within the community. Your loved one will still maintain as much independence physically and mentally as possible, yet they will be taken care of in the ways that are most necessary.
When you need a luxury retirement community that is the best for you or your loved one living with Dementia, The Inn at Sarasota Bay Club now offers secure assisted living and long-term residential services. These new opportunities – along with the an incredibly skilled retirement community rehabilitation services staff – will treat your loved one with respect, while also allowing them the joy and comfort they deserve.
The Bayshore Place Secure Assisted Living skilled nursing staff recognizes that every resident is a unique individual with unique needs. Bayshore Place believes in helping its residents achieve daily victories that lead to a life full of quality and value. They also believe in their mission and staff so much that the caregivers are called "companions." They are partners on the journey through retirement.
Bayshore's companions accomplish daily duties ranging from dressing to meals to coordinating resident-chosen activities. While each day is tailored toward the desires and lifestyle the resident chooses to lead, our Bayshore companions are there to assure the family that their loved one is safe.
Independent living is offered to the resident at the level that makes both the family and the staff feel comfortable. If your loved one is looking for places to retire that are safe, friendly, fun, and blessed with the feeling of home, the Sarasota Bay Club communities are ideal for positive assisted and independent living and care.