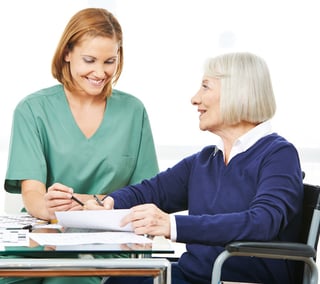 One of the most difficult decisions that a family can face, is deciding when it is necessary to move your loved one to a long-term care community. It is almost inevitable when they are suffering from Dementia or Alzheimer's disease, as it becomes increasingly more difficult to provide them with the 24-hour, supervised care they need to keep them healthy and safe. For patients with these types of cognitive difficulties, memory care can provide the supportive environment they need. More specialized, than care provided in an assisted living community, memory care is a distinct category of skilled nursing that concentrates on the care of patients who have memory problems. Following are three benefits of memory care in a retirement community in Sarasota, Florida.
Related Blog: 5 Things to Look for in a Memory Care Community
Secure Environment
Memory care units strive to provide the patient with a secure environment that also allows for independence. The layout is designed to be easily navigated in order to help reduce anxiety in patients struggling to find their way. Hallways may be color-coded, or lined with pictures that the patient was once familiar with.
Tailored Programs
Memory care units are devised to accommodate patients in various stages of Dementia, or Alzheimer's, whether it is in its earliest, middle, or latest stages. One-to-one assistance is provided to residents when planning activities, and these are determined by those things that are relevant to your loved one's specific interests and needs. Activity groups are customized as well, for example patients who are at the earliest stages of Dementia may enjoy playing cards, while other groups may be engaged in a group activity. Staff is constantly monitoring, evaluating, implementing, and revising the plans of care to ascertain that your loved one's needs and preferences are being met.
Personalized Care
In a memory care unit, caregivers are required to get to know their residents well, as memory impairment often causes patients to feel threatened, upset, or angry. Familiarity with a patient's fears can often preclude a distressing situation. The goal of families and memory care is the same; to help your loved one live at their highest possible comfort and independence level. If you are exploring options for your loved one, be sure to look into the benefits of memory care.