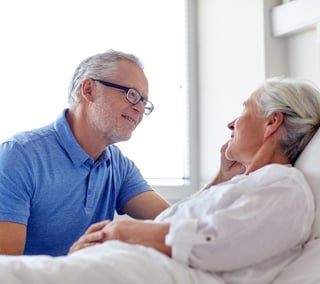 Most family members never think twice about helping care for an ailing family member. Even though it seems the only logical thing to do, it can be a challenging transition for those caregivers, both physically and emotionally. Family caregivers often struggle with sleep deprivation, lack of exercise, poor eating habits, and missed medical appointments. It is easy to forget about one's own health when taking on such an enormous responsibility. So, what can be done to help you better care for yourself? Here are 5 tips to keep you in the best shape possible.
Related Blog: What is Caregiver Burnout and How to Avoid It
1. Accept the help of family and friends
When family or friends ask if they can be of help to you, don't hesitate on the answer. Respond with "sure, thank you." It's true, many caregivers don't know how to accept help from others and are reluctant to ask. Actually, it's quite natural to not want to "burden" others or admit that you can't handle everything on your own. Just remember, most people who don't want to help, won't bother asking. Take the help and do encourage them to come back. It's one of the best opportunities to get away from the strenuous task without the guilt of leaving the responsibility behind.
2. Make a doctor's appointment for a checkup and keep it!
Take a day to visit your healthcare professional to discuss your health concerns. Let your healthcare provider know the changes that are taking place in your life. Many family caregivers are under a great deal of stress and never recognize the signs of being overworked. Don't keep putting off what is in the best interest of your physical and mental well-being, make the appointment and keep it. Remember in order to care for a ailing loved one, you have to care for yourself first.
3. Engage in activities that make you feel healthy
Take time to take a brisk walk in the early mornings or late evenings. Don't feel guilty about taking a walk or jog alone, spend that time doing something to better your health. Cook nutritious and tasty meals. Eating healthy is one of the biggest concerns for caregivers. Most people take the time to cook the but often forget to sit down and give their body the fuel it needs.
4. Schedule short breaks throughout the day
Yes, caregiving can be full-time job in most cases. As long as you remember to take care of yourself, you can reduce the stress that negatively affects your health. Taking short breaks throughout the day is a must. The time allowed should be used for relaxation. Consider using the time for a short power nap, reading a book or magazine, or just to enjoy a phone call with a friend. The time spent is all about getting what you need and staying healthy.
Also, remember there are luxury retirement communities, like Sarasota Bay Club, that have professional in-house caregivers to help out with some of the daily living tasks for your loved ones. It is an excellent way to create a sense of relief for you, your loved one, and other family members who are affected. Find out more about caring for you while caring for others by visiting Sarasota Bay Club.