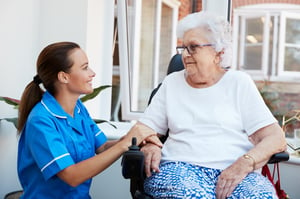 Change is hard no matter what your age, but for seniors, it is especially hard. When a loved one must transition from their home to a long term care facility, it evokes feelings of anxiety, stress, and depression. Saying goodbye to the familiar and having to embrace the unknown is an issue facing many seniors and their loved ones. While no change is easy, there are ways to reduce what is known as "relocation stress syndrome" by implementing the following four steps:
Related Blog: When Is It Time? Considering a Transition to Assisted Living for Your Loved One
Proactive Approach
If your loved one is in the hospital, use any available resources like those of a patient advocate. This person can help with selecting a facility and arranging for transport.

Involve your loved one in the decision making process. Seniors are still adults and deserve to be treated as such. Keep them in the loop about what is happening and when it is happening.

Validate their feelings and acknowledge their fears. Imagine how you would feel in their situation. A little empathy can go a long way in making the transition smoother for everyone.

Try to recreate their home as much as possible in their new space. Family pictures and a favorite chair are just two examples of how you can make them feel a little more at home.

After the Move: Helpful Tips
Be sure to communicate with staff about your loved one's interests, habits, and personality. This will allow staff to better interact with them as they adjust to their new home.
Learn about activities and events scheduled at the facility. Find ones that might interest your loved one. Encourage them to attend and if possible, attend one or two with them. By encouraging them to socialize, they will meet, and hopefully make, new friends.
Adjustment and even acceptance won't happen overnight—it is important to remain patient with your loved one. The same goes for you and your family. Replace feelings of guilt with the knowledge that your loved one is receiving care they need for a better quality of life.
Addressing Relocation Stress Syndrome
The stress of moving to a new home can affect a person's physical and mental health. To prevent a misdiagnosis of dementia for your loved one, watch for the following changes in appearance and behavior:
Loss of weight/lack of appetite

Changes in sleeping patterns

Lack of self-care

Changes in cognitive behavior

For loved ones experiencing an especially difficult time adjusting, consider connecting them with a therapist. A therapist can do wonders to help seniors deal with common issues and emotions surrounding such a move.
The Right Place
There are two key factors when it comes to a better adjustment for everyone involved:
Finding the right place

Acknowledging their anxiety

Just as finding the right house when shopping for your first home was important, so is finding the right place for your loved one. In fact, finding the right place can help reduce anxiety if your loved one feels at ease and will receive great care.
The Sarasota Bay Club offers a broad range of accommodations and care. From the luxury condominiums to rehabilitation and secure assisted living and cognitive care, your loved one receives great care no matter their health or cognitive stage.
To schedule a tour, call us at (941)845-6632 or contact us online today. Our caring and professional staff understands how hard change is for seniors and their families. We work hard to ensure that the transition is as smooth as possible and that your loved one comes to love their new home. Learn more about Sarasota Bay Club, The Inn at Sarasota Bay Club—and our new offering, Bayshore Place at the Inn—by scheduling a visit today. We look forward to meeting you and to welcoming your loved one to our community.