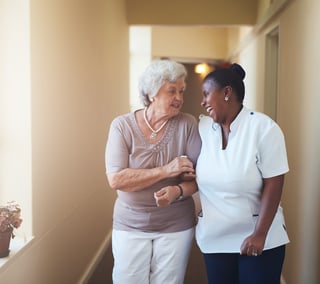 When a loved one is struggling with Alzheimer's disease or Dementia, it can be difficult to find them the support they require to maintain their independence and continue living a fulfilling life. Although the Alzheimer's Association indicates more than five million Americans have the disease, there still aren't a lot of retirement communities that cater to these individuals and their families. The ideal community must meet their unique needs, offer care and support, and provide a safe environment where they can enjoy life, socialize, and remain functional and in control.
Related Blog: 5 Things to Look for in a Memory Care Community
Alzheimer's & Dementia Needs
If you or your loved one is looking into places to retire it is vital that you find a community that can cater to the specific care they need. Dementia can make it more difficult to communicate, which often causes people to withdraw from family, friends, and the community. They can be left feeling closed off, frustrated, confused, and even afraid. This negatively impacts health and well-being and can even cause symptoms to get worse. The optimal environment for Dementia sufferers should include:
Routine and structure
Communication and interaction
Patience
Attention to signs of mental fatigue and stress
Independence
Comfort & Reassurance
The Ideal Community
A community setting that focuses on combining independent living with structured care is the best approach for individuals with Alzheimer's. Maintaining quality of life, offering social engagement, and providing assisted living options that enhance cognition should be at the top of your list of wants. Sarasota Bay Club combines these attributes with many other offerings to create the very best independent retirement living experience. Combining a beautiful setting with waterfront views, stunning Mediterranean-style architecture, and spacious floor plans with a staff and community that can cater to Dementia make this an ideal community for retirement.
Alzheimer's Disease and Dementia require a different type of care and understanding for people with the condition to thrive. The diseases require a special focus on routine, patience, and communication that are best served with a community approach. The ideal environment should be safe, promote social engagement, and offer structure that emphasizes cognition and a positive mood. Your loved one deserves the very best care, and Sarasota Bay Club offers it along with an excellent return on investment and the pride of remaining independent.