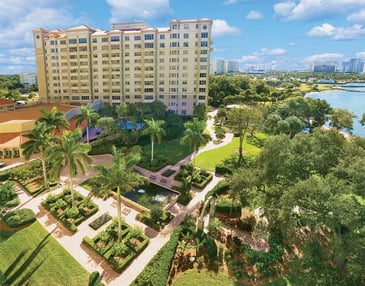 Investing in a retirement community may stir as many emotions as when you bought your first home. Just like shopping for your first home, as well, you face many taxing questions and choices. More than ever, you're determined to make the right decisions. So, as you are choosing a retirement community in the Lakewood Ranch area, approach it with the same tenacity and forward thinking — as an investment in your happiness and future.

Related Blog: Moving a Parent to a Retirement Community Preserves Parent-Child Roles
Quality of Life
So, now that you've finally decided to settle down (or live it up!) for your golden years, your thoughts may be more crowded with questions than with answers. That's normal. You are facing a lot of decisions that are going to affect your enjoyment and quality of life. Start with a few elemental questions to better define and design the luxury lifestyle you desire — your privilege of choice:
What region and weather do you wish to live? (Hint: the beautiful Suncoast area!)
Would you like easy access to shopping, fine dining, arts and theatre and a wide array of leisure activities in a bayfront city? (Hint: yes!)
What luxury community amenities fit your lifestyle? (Hint: a health and wellness center, heated pool and spa, 24-hour valet, world-renowned live entertainment, hair & nail salon, a gorgeous greenhouse and scenic walkway paths along the bay!)
Would you like your luxury retirement residence to be no less than a resort setting? (Hint: yes, with uniquely gorgeous views of the sparkling waters of Sarasota Bay, Longboat Key and the Gulf of Mexico!)
Is retaining the financial advantage of full ownership in your luxury home important to you? (Hint: yes, a real return of investment structured as a condominium purchase!)
Healthcare Choices
Receiving quality health care is an essential factor for many people when choosing a retirement community. If you or a loved one are in need of secure assisted living services or memory care, look for a luxury retirement community with the following offerings and services:
Assisted living and memory services that preserve dignity and foster independence.
Fully oversee your care serving as care advocates.
Provide non-medical assistance and support with daily tasks and activities.
Employ fully vetted, qualified, experienced and caring staff and offer around-the-clock availability of an RN.
Work closely with family members, physicians and trust officers by coordinating care and conducting individual needs assessment.
Develop an effective memory care program with uninterrupted 24-hour assistance as needed.
Sarasota Bay Club offers resort-style living with everything you need, from first-class services and amenities, to our dedicated 24-hour ClubCare support.