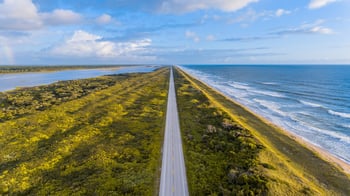 The Sarasota area is surrounded by historic cities that make for great day trips. From exploring history to taking in a professional baseball game, venturing outside of Sarasota for the day is sure to result in adventure and fun. The Sarasota Bay Club makes the perfect home base as you explore the region.
Related Blog: Up and Coming: Explore the Rosemary District in Sarasota
Bradenton
Located approximately 13 miles to the north of Sarasota, Bradenton offers a long list of opportunities that make for a great day trip. Here are just a few:
The Manatee Village Historical Park—Step back in time at this park featuring a collection of historical and replica buildings. The mission of the park is to preserve and share the heritage of Manatee County's founding period of 1840-1918.
Enjoy touring buildings such as the Wiggins General Store. The store served residents in the town of Manatee and people came from miles around to shop for goods at the store. King Wiggins rented upstairs rooms to weary shoppers who needed rest before traveling home. Be sure to also visit the 1860 courthouse, the blacksmith shop, and the pottery barn. Admission is free and there are more than 14 points of interest.
The Village of the Arts—Explore colorful and historic houses containing everything from art galleries to restaurants. There are popular artwalks the first Friday evening and Saturday afternoon of each month. Bakeries, quilts, and other offerings await you in this working artists community.
The Asolo Repertory Theatre—This theatre draws thousands each year for its production of such classics as Meredith Willson's The Music Man and Jules Verne's Around the World in Eighty Days. The Asolo Repertory Theatre offers you a chance to enjoy Broadway without traveling to New York.
St. Petersburg
Venture a little further north to St. Petersburg for a true day trip experience. Located 36 miles from Sarasota, St. Petersburg is a charming city bustling with attractions, shopping, and more.
Sunken Gardens—No visit to St. Petersburg is complete without a visit to the Sunken Gardens. The 100-year-old gardens feature more than 50,000 tropical plants, cascading waterfalls, and pink flamingos! Follow the meandering paths as you explore this natural wonder and one of Florida's oldest roadside attractions.
Tampa Bay Rays—Take in a Major League Baseball (MLB) game at Tropicana Field, home of the Tampa Bay Rays. Enjoy a behind-the-scenes tour of the stadium and a hot dog from the concession stand. If hot dogs aren't a part of your diet, there's plenty of vegetarian and gluten-free options available. Root for the Rays as they compete against other American League (AL), East Division teams.
Port Charlotte
This area of Florida is located approximately 50 miles south of Sarasota. Port Charlotte is home to amazing golf courses, nature trails, and historic sites. Shopaholics will delight in the more than 100 shops located in the Town Center Mall. The mall is the only fully enclosed, regional shopping center in Charlotte County.
The Sarasota Bay Club
If you're searching for full-service, luxury retirement living along the Sarasota Bay, contact us. The Sarasota Bay Club celebrates the art of living by providing exceptional choices for an active and social lifestyle.
Our convenient location makes day trips throughout the region easy. We also offer a wide range of activities and events to keep you occupied should you simply want to stay home.
Discover what makes the Sarasota Bay Club a popular choice for luxury retirement living. Reach out to our friendly and professional staff today to schedule a private tour. We look forward to showing you why Sarasota Bay Club is such a special place.