What makes luxury senior living incredible? Luxury senior living redefines how we think senior care should be. It offers exceptional services and premier amenities that create a space where one can enjoy a comfortable and lavish lifestyle.
Let's take a look at why you should consider luxury independent senior living.


Related Blog: Luxury Independent Living Communities vs Home Health Care Services


What Is Luxury Independent Senior Living?
Luxury independent senior living communities offer older adults an exceptional approach to wellness and comfort. The community's design aims to enhance and enrich every area of a senior's life.
Independent senior living communities guarantee that the seniors are given the attention they deserve, and their accommodations are carefully considered, ensuring peace of mind for them and their loved ones. It offers the seniors an exceptional care experience at the highest-caliber possible, where every day feels like a vacation. Luxury independent senior living community features include:
Fine dining
Deluxe amenities
Distinctive services
Convenient location
Incredible views
Refined living spaces and architecture
Resort-like hospitality
The independent senior living communities also provide several levels of support to older adults. Some of their primary services include:
Assisted living
Independent living
Memory care


Why Should You Consider Luxury Senior Living?
Resort-Style Amenities
Resort-style living is perfect for one's spirit, body, and mind. Popular amenities include things like heated pools, hair and nail salon, housekeeping and laundry services, dining variety, fitness rooms, and transportation options. It ensures that you can indulge in self-care as you explore living a comfortable and peaceful life.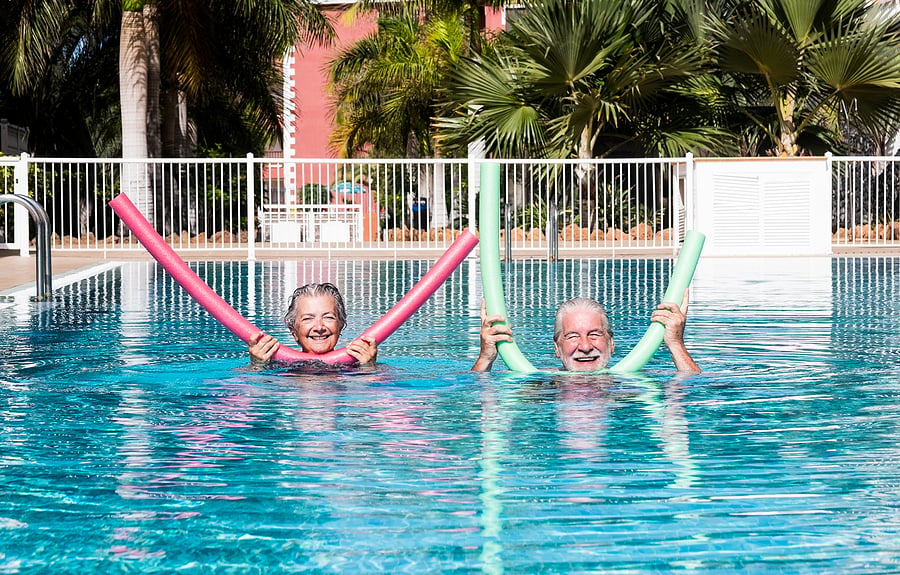 Extravagant Apartments
Luxury independent senior living communities provide older adults with premium homes that accommodate any age and are located near natural settings like the beach or a lake. The homes are spacious and have high-end appliances. Most communities also have the option to select how many bedrooms you would like so you can accommodate any needs you might have.


Premium Healthcare
A luxury senior living community comes with exceptional memory care and assisted living services. It ensures that older adults with dementia and other illnesses can enjoy assisted living in a caring and luxurious environment. Staff will also help older adults coordinate health care and daily living activities.


What Sets Sarasota Bay Club Apart
Sarasota Bay Club is a luxury retirement community that offers state-of-the-art living and exceptional senior care. Our senior care services include: skilled nursing, assisted living, in-home care, and an excellent wellness center.
We provide all the resources required to ensure you or your loved one can live an incredible life. Sarasota Bay Club also ensures you enjoy services and therapies on our campus. We have what you and your doctor need to guarantee proper health care.
We provide many activities and state-of-the-art amenities to ensure luxury living. Our main outstanding amenities include:
Beauty salon
Gift shop
Stocked library
Reading room
Woodworking shop
An incredible art studio
Billiards room
Game and card rooms
Massage therapy studio
Fitness center
Conference room
Multi-purpose theater and auditorium
Full lounge and bar
Private dining rooms for special occasions and parties
Casual or formal dining settings
Custom-designed heated pool and spa
---
At Sarasota Bay Club, we have an unrivaled list of first-class services and amenities. We aim to offer older adults a place to enjoy their retirement while prioritizing their health care. Contact us for more information.