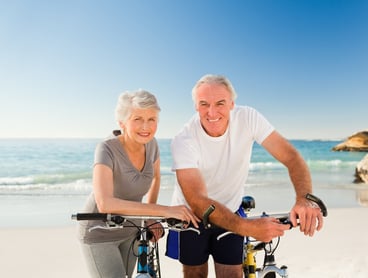 For millions of Baby Boomers and their aging parents, the old notion that retirement should mean a stuffy, boring life is getting thrown out the door. Self-reliant, adventurous and active, this new generation of retirees are looking for retirement communities that make independent living fun and exciting. For seniors in the Lakewood Ranch area, the Sarasota Bay Club is only a few minutes away.


Related Blog: Living at Home vs. Moving into a Full-Service Retirement Community
What Does The Sarasota Bay Club Offer?
Wellness, independence and carefree living are valued at the Sarasota Bay Club. It is located right near the heart of Sarasota's downtown, giving residents plenty of options in entertainment, culture, shopping, and social outings as well as many on-site activities and amenities. Arts, theaters, reading rooms, and numerous social groups provide many opportunities for you to explore your interests. Have a skill? Start your own group to share your knowledge.
When life happens, residents are taken care of with aging services and recuperative care. A doctor and a community nurse are present for your personal health and recovery needs. Emergency services and valets are available 24 hours a day. Preventive health and wellness are apart of Sarasota Bay Club as it offers both physical and brain exercises to keep your body and mind in top shape.
At Sarasota Bay Club, you are expected to live well. Fresh, nutritious meals are prepared everyday with locally sourced food. The fish is often caught on the same day it's served. Made by professional chefs and cooked to order, you have plenty of choices when it comes to dining.
In the main dining room, you can expect to be served by attentive staff. For more casual dining, eat on the Veranda and take in the views from the wall to wall windows. Lounges are available for relaxation in a casual setting.
If you want to embrace "aging in place" or have just gotten attached, buy your condo. Numerous resident options are provided for ownership. Life estate deeds gives residents the right to spend the rest of their life at the community. Other options let residents benefit from the value of their home.
The Sarasota Bay Club is perfect for seniors in Lakewood Ranch who are looking for something special. Don't put your life on the back burner when you retire. At this luxury retirement community, your independent lifestyle is supported here and your options are unlimited. Embrace the good life and join the club.