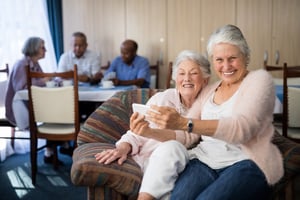 If you're trying to decide whether living at home or in a senior living community is your best option, it can help to consider the different aspects of each choice.
Related Blog: Why Moving to a Luxury Retirement Community in Sarasota is Better Than Staying at Home
Living in a Senior Living Community
Sarasota Bay Club, a full-service senior living community, offers the following advantages over living at home:
A greater degree of certainty regarding your future. You'll have the security of knowing where you'll live and that you'll be well cared for in a beautiful environment.
No more worries over home maintenance or repair, and more free time to enjoy your life without these chores and worries.
Less stress, which can make you happier and healthier.
Plenty of varied activities to keep your mind and body engaged.
An immediate circle of friends and sense of community.
Increased safety and security, with emergency assistance available whenever you need it.
Delicious meals designed around your nutritional needs and preferences.
Convenient on-site services, including a bank, beauty salon, massage therapy studio, library, and fitness center.
The freedom to drive when you want to combined with the convenience of our on-site transportation.
Living at Home
In contrast, living at home can present the following challenges:

More uncertainty
You'll face "what if" questions over your health, quality of life, home maintenance, and more.

Increased family stress
If your spouse or children takes on the role of being your caregiver, this places stress on the entire family.

Concerns over safety and security
If you fall or have another emergency, will you be able to get immediate help?

The burden of planning and cooking meals
Cooking for one or two can seem like more trouble than it's worth. You may lose interest in food, which can quickly compromise your health.

Arranging for the help you need
You may need more help than in the past, and arranging and supervising workers can be difficult.

Uncertainty about the future
If you need more help and a higher level of care in the future, will you be able to receive the assistance you need?


Contact Sarasota Bay Club for more information about the many advantages our residents enjoy. If you're weighing the merits of living at home vs. living in a senior living community, we'd be happy to take you on a tour and show you what we have to offer.