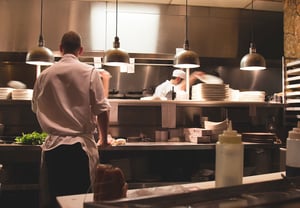 Many seniors grew up enjoying the fresh fruits and vegetables from their own family farms. With the simplicities of opening a can, many of us were taken away from growing our own veggies. Today, there is a welcoming resurgence in small, local farming. Restaurants are beginning to honor those hard working, local farmers and are serving farm-fresh dishes. Seniors and many others are returning to healthy dishes full of flavor.
Related Blog: Support Local Businesses and Eat Healthy: Most Healthy Restaurants in Sarasota, Florida
Enjoy Saturday Mornings at the Sarasota Farmer's Market
It's a great way to bring the farm to your table. The Sarasota Famer's Market is opened year-round on Saturdays from 7 am until 1 pm. Yes, even if it is raining! Fix some of those dishes that used to grace your family's table. Make it a place to dine for Saturday breakfast or lunch with the homemade foods the vendors bring for everyone to purchase. While you are enjoying the fresh dishes and shopping for those fresh, farm foods to take home, enjoy the entertainment. Where can you go that brings the entire community together for great foods, produce and live entertainment? Step out on Saturdays.
Restaurants Serving Farm to Table Dishes
As you will find on Tropical Breeze, Sarasota restaurants are joining the movement to not only support the local farmers but also to serve healthy dishes to their patrons.
Cooking Classes and Cooking Demonstrations
There is no better time than the retirement years to learn about foods we never tried and how to make new dishes to serve at home.
Publix Supermarket's Cooking Classes and Demonstrations
If you are not yet familiar with Publix Supermarkets, or something special a Sarasota store has to offer, check out a fun and entertaining way to learn to cook. Aprons Cooking School and Classes at their University Walk store, located at 2875 University Pkwy, Sarasota, FL 34243, has some amazing things going on for those of us who love to cook, want to cook or just want to learn new things. If you have questions, call 941-358-7781.
Sarasota Cooking Classes with Giuliano Hazan
Have an intimate experience with a small group, and prepare an exceptional, Italian meal. Whether lunch or dinner, you will learn the true Italian style of cooking.
Dinner and Entertainment
Found on DineSarasota.com, CinéBistro, located in the Westfield Southgate Mall at 3501 S. Tamiami Trail, Ste 1100, Sarasota, FL 34239, 941-361-2456, is a new experience for many of us. With an impressive menu, you can enjoy dinner and a movie without rushing from one place to another. Don't want to see a movie? No problem, you can simply enjoy dinner.
The Marina Jack II, located in the Marina Jack at 2 Marina Place, Sarasota, FL 34236, offers lunch and dinner cruises in the Sarasota Bay area. The marina offers relaxing, waterfront dining.
Waterfront dining is a luxury to us that live in the Sarasota area. There is nothing better than watching a beautiful, Florida sunset while enjoying fresh seafood and other dishes.
Sarasota Offers Exciting Lifestyles for Seniors
Sarasota is a vibrant community where seniors can enjoy a rich and fulfilling lifestyle. At the Sarasota Bay Club, you can enjoy retirement without venturing off the grounds with a variety of activities. We have live entertainment, lectures and many other choices offered to keep you as busy every day. Our Bayfront location gives you access to many downtown activities just minutes away. You can venture away, and return to your relaxing, Sarasota Bay retirement home.