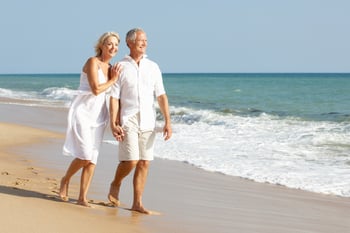 If you're considering making a lifestyle move to upscale and luxury living, whether you're downsizing from your home or looking to relocate to new scenery, Sarasota Bay Club should be on the top of your must-see list. In retirement, you are mindful of how, where, and when to spend your time. You're looking for amenities, social flare, and life enrichment activities. It's time to enjoy privilege and choices. It's time to consider Sarasota.
Related Blog: 5 Things You Should Look for in a Luxury Senior Living Community
The View Is Spectacular
Welcome to retirement, and we understand you're ready to fully embrace and enjoy your view of life in the years to come. There is no more stunning of a venue than Sarasota. Glorious white sand beaches only minutes away, for that romantic or soul-stirring walk. Downtown offers all your performing arts, local seafood, and shopping. Whether you want tranquil and nature or ongoing activities, they're all at your fingertips and in your backyard. The weather is year-round perfection and will make you feel like you're on vacation every day. Everything you need to enjoy your view from retirement is all right here.
Upscale Choices
Because you want the freedom to enjoy the little things, whenever you want, we offer a wide array of extras that can keep you changing up the day-to-day activities. Relax in the custom-designed, heated pool, or spa. Meet with friends in one of the cards or game rooms. Expand your artistic desires with our fully appointed art studio or woodworking shop. Shoot pool. Get a massage. Get dressed up for a formal dinner, or stay casual when you feel like dining in a more relaxed atmosphere. Enjoy a good book in the quiet of the stocked library. The choices are endless, and you're free to go where your mood takes you.
Social Lifestyle Living
Invite guests, friends, and family for special occasions or parties. We offer private dining rooms and have a full bar and lounge. We make being social easy and luxurious for you. Our location is conveniently connected to all the area attractions that matter to you most. Our Sarasota Bay Club Lifestyle Department offers what we like to call, "The Art of Living" program. We feature a calendar of ongoing events that expand in the arts, including writing, art, and entertainment. Suggest a new event based on your individual talents. Learn something new or share an area of expertise with others and make new friends whenever you like.
You Don't Have to Lift a Finger
The beauty of living in our community is you don't have to lift a finger. If something breaks, we provide maintenance. Our housekeepers handle all the vacuuming and common areas. You can choose to drive downtown for dinner and use our 24/7 valet service. Don't feel like driving? Take advantage of our regular bust trips for grocery shopping during the week. If you need storage, garage space or almost anything for that matter, we have you covered. Even emergency response is state of the art with our Life Alert System. Eliminating these hassles for you means you can dedicate your time living your best retirement.
Centralized Healthcare Options
Your health is essential, and we partner with you and your medical professionals, to offer a variety of ongoing services on campus, should you need them. From our wellness center and rehab facility to assisted living and skilled nurses therapies, we have you covered.
Sarasota Bay Club offers a luxurious and upscale answer to all of your retirement living questions. You're ready to make a move, but know you need social, educational and carefree living. Contact us today to schedule your private tour and learn more.