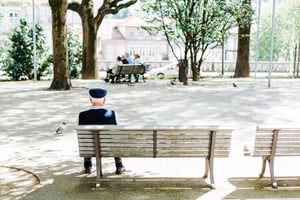 The City of Sarasota is experiencing exciting growth thanks to the revitalization of the Rosemary District. Since 2014, the district has blossomed into one of the 10 most walkable communities in Florida. The location, just blocks from downtown and the bay, makes this a popular spot for shopping, dining, and entertainment. As the Rosemary District continues to develop, residents enjoy exploring the latest opportunities of this pedestrian-friendly section of Sarasota.
Related Blog: Why Choose a Memory Care Community in Sarasota For Your Loved One With Dementia Or Alzheimer's
The Dining
The Rosemary District is home to some of the best dining in Sarasota. Diverse dining options make the district an attractive option for Sarasota residents and their visiting friends and family. If you're looking for something other than the standard restaurant chain, give these restaurants a try:
Station 400—The downtown Sarasota location is housed in an 1852 railroad depot. The depot has an interesting story, having been built in Indiana and painstakingly taken apart and reassembled in its current location. Station 400 serves breakfast and lunch and is known for its popular brunch menu.
The Blue Rooster—Known for their fried chicken and mint juleps, The Blue Rooster also offers live entertainment. A gospel brunch is buffet is held every Sunday, with live gospel music from 12 - 2:30 p.m. Other types of music include live blues and jazz. Bring an appetite and your dancing shoes!
The Shopping
Retail options range from the eclectic to the necessary. Whether you are shopping for a gift or something for yourself, you'll enjoy browsing the shops of the Rosemary District. Stores located in the district include:
Canned Ham Vintage—What's old is new again at this shop filled with vintage clothing, jewelry, and home goods. Look for the 1963 aluminum Shasta trailer parked in front.
Artisan Cheese Company—Delight in all things cheese at this specialty shop offering hand-cut to order artisanal and farmstead cheeses. The shop features cheeses from the region, the country, and Europe.
A Boutique Hotel
Marriott International, Inc. is bringing an 89 room luxury boutique hotel to the Rosemary District. The Sarasota Modern is slated to open in December of 2018 and features two pools, private cabanas, spa services, and a restaurant named Rudolph's. Visiting friends and family will enjoy the uniqueness of this modern and luxurious hotel, located within walking distance of shopping and restaurants.
Sarasota Bay Club
The Rosemary District offers a wealth of opportunities for residents of the Sarasota Bay Club. The pedestrian-friendly district continues to evolve as one of Florida's up-and-coming urban developments. From entertainment such as live music, to varied dining options, the Rosemary District is a fun place to explore. Whether it's enjoying coffee with a friend or browsing the unique shops, the district is a popular option for Sarasota residents.
The Sarasota Bay Club is luxurious retirement living located on the Sarasota Bay. We take an "Art of Living" approach with our residents, focusing on the physical, social, emotional, and spiritual aspects of their lives. Our professional and caring staff specialize in developing activities and events designed to engage and entertain residents.
The overall wellness of our residents is a top priority and we offer a variety of services from in-house therapy to our Community Nurse. A fitness center along with healthy dining options are just a small part of our wellness programs.
Enjoy the best that Sarasota has to offer by visiting the Sarasota Bay Club today. To arrange a personal tour, contact us. You'll find our community as warm as the Florida sunshine and you'll delight in exploring The Rosemary District. We look forward to showing you why so many people choose to call the Sarasota Bay Club home.