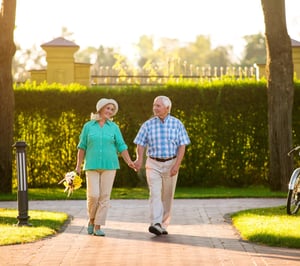 Choosing the right retirement living arrangement for yourself or a loved one comes down to understanding the various options out there, and how they accommodate your needs and lifestyle. Many people wish to remain in their homes for as long as possible, while others desire interaction and activity with people their same age. Some remain able to live independently for a long time, while others need help with household or personal tasks. The key to choosing the best fit is understanding your own needs.
Related Blog: Living at Home vs. Moving into a Full-service Retirement Community
First, a summary of the available options:
Senior Communities
Senior communities are neighborhoods with a minimum age requirement. These communities include single-family homes, condominiums and/or apartments designed with independent living in mind. Residents here are often active and have access to other senior adults, as well as entertainment and activity options (like golf courses). These senior communities will also provide 24-hour access to emergency help and lawn care.
Assisted Living
Assisted living residences are ideal for people who require some level of assistance, but do not require constant personal or medical care or supervision. Residents may live in their own apartment, or with a roommate. Apartments generally include a private bath, kitchenette, sitting area and bedroom. The residence will also include common areas such as a dining room, TV room, activity rooms, and library. Transportation is available for personal errands (shopping, salon/barber, doctors' appointments) and for group outings and activities. Likewise, an activities director will often plan events for residents such as holiday parties, games and movie times. 24-hour security and emergency services are also available.
Options for daily assistance includes housekeeping, meal preparation, personal needs and hygiene, and medication assistance.
Some assisted living residences also offer care for dementia and Alzheimer's patients, providing meals, hygiene assistance and socialization, as well as a high level of daily supervision.
Skilled Nursing Community
At times your need for assistance may increase either temporarily or long-term. In this instance, a skilled nursing residence may provide the support needed.
In a skilled nursing community, admission is initiated by a person's physician, as well as the prescribed level of care and therapy. Nursing care is provided 24 hours a day to meet the medical and personal needs of the residents.
Some patients will go to a skilled nursing community temporarily to recuperate following an illness or injury. These patients may undergo physical, occupational, and/or speech therapy, and are expected to retain their former level of independence.
Other patients may require long-term skilled nursing care, such as frequent drug or treatment attention (such as respiratory therapy), or specialty care (such as advanced dementia).
These facilities provide their residents with daily personal and hygiene assistance as well as medical care.
Continuing Care Retirement Community
A continuing care retirement community often provides the full spectrum of retirement living options. Residents typically move into the independent living homes, and can move within the community as their needs change. These residents can enjoy their friends and neighbors and the activities of the community, even as they find that they need more assistance with housekeeping or if they have to enter rehab, providing a consistent and stable environment, able to meet individual and changing needs.
So Which Option is Right for You?
Choosing the best retirement living option requires several considerations:
What are your medical care needs? Do you have reason to believe that your needs will change in the near future (such as a diagnosis of a progressive condition, such as dementia or Parkinson's)?




What are your daily assistance needs?




What level of housekeeping assistance do you desire?




What type of environment do you prefer - a single-family home or apartment living? Do you prefer to keep to yourself, or would you enjoy having others close by to do things with?




Do you engage in an active lifestyle?




Is location a concern - do you have family you want to remain close to?




Which option best fits your budget?



Sarasota Bay Club
The Sarasota Bay Club offers a number of luxury retirement living options ranging from independent living to premier healthcare and nursing care. To learn more about our community or to schedule a visit please contact us and we will be happy to help.