Researching senior living options for your loved one can be overwhelming. The variety of choices and options seems to grow every day. By prioritizing your search with key items of consideration, you'll be better prepared with what questions to ask when you tour communities.
Related Blog: Common Misconceptions About Assisted Living
Here are 5 things to prioritize when researching senior living options:


1. Safety & Security
Safety for residents in senior living ranges from handrails to lighted security at night. Grab bars in bathrooms and clutter-free hallways are just two examples of safety precautions. Is the community located in a secure neighborhood and is there appropriate lighting in the parking lot for visitors? Are there any security officers on staff and is there an evacuation plan in place in case of fire or bad weather? These are just a few of the questions to ask because the safety and security of your loved one is, indeed, a top priority.


2. Personal Care
Senior or assisted living can mean different things to different residents. For example, some residents may need assistance with bathing and dressing, while others may need oversight with medications. Ask about personal care services, such as bathing options and preferences. Observe current residents; see if they appear properly dressed and groomed. Stay alert to any smells or odors; the community should stay clean and fresh. One cannot ask too many questions regarding staffing so ask about what staff is available and how they help residents with daily tasks.


3. Food & Dining
Making sure your loved one has access to nutritious meals in a senior living community is certainly a priority. Arrange for you and your loved one to enjoy a meal in the dining room. This is a great way to taste-test the cuisine and a great way to meet other residents. You can also inquire about special diet requirements when meals are typically served, and if dining in one's room is an option.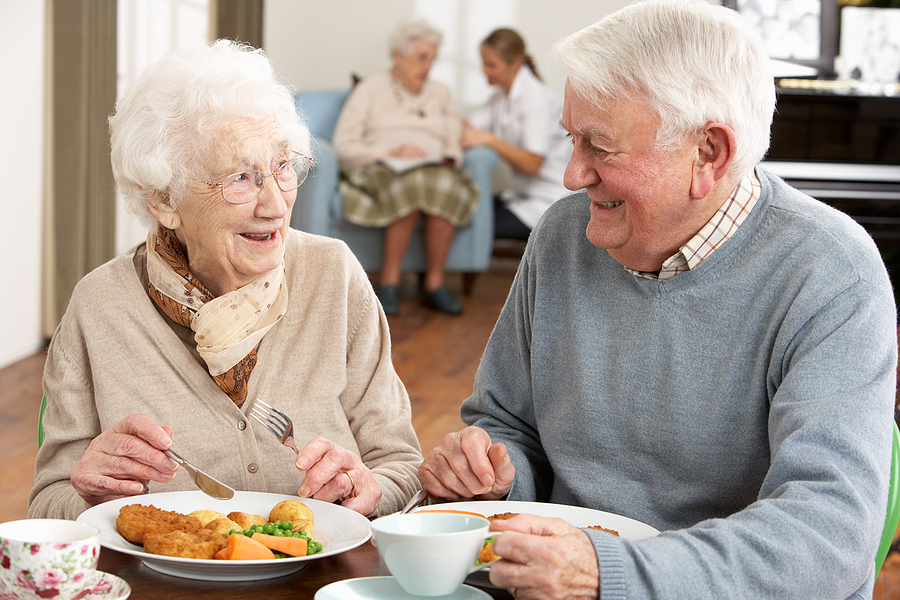 4. Activities & Recreation
Activities and recreation options should be plentiful and varied so that they appeal to a variety of interests. By speaking with the activities director, you can learn about the types of events offered and determine whether your loved one would enjoy them. Activities and recreation in senior living centers range from field trips to arts and crafts, and even games. Ask to visit on an event day to observe how the residents and staff interact and enjoy the activity.


5. Staff Friendliness & Attitudes
Staff friendliness and interaction with senior living residents is something to watch for visiting a community. Are staff listening to residents and making eye contact with them? Inquire about staffing patterns and how many people are involved with patient care. It is also appropriate to ask about staff certifications and training. Having your loved one surrounded by people who truly enjoy their jobs is crucial to your loved one being happy and receiving great care.


Making a Decision
Choosing the right assisted living community for your loved one is a big decision as it will be their new home. Many factors contribute to an overall decision, however, the list above provides a great start to your search. While no life transition is easy, knowing you've found a safe, secure, clean, and friendly place where your loved one will be cared for and even entertained, creates great peace of mind.

---
Sarasota Bay Club is a retirement community in Sarasota, Florida. The Inn at Bayshore Place is a separate community within the Sarasota Bay Club's campus. It is an Assisted Living and Memory Care Community. To learn more or to schedule an appointment to visit, contact us today.