An estimated one in four adults in the U.S. has some form of arthritis. This disease can result in severe pain and limit mobility, which can lead to loss of function and independence. However, there are some ways that you can improve your arthritis such as exercise.
Exercise is great medicine; it can help to improve arthritis and arthritis pain. However, as an older adult, it is important to focus on low-impact exercises. These will allow you to enjoy the benefits associated with physical activity while helping to minimize the pressure you put on your joints. So what are some forms of exercise for arthritis and how can they help you manage the condition?

Related Blog: Simple At-Home Exercises To Help You To Improve Your Balance


1. Stretching
Stretching is a simple but effective form of exercise for seniors with arthritis. Stretching can be performed almost anywhere, does not require special equipment and can be combined with other exercises.
Gentle stretches for arthritis include arm circles, ankle circles, knee hugs and leg swing. Doing these stretches regularly can help to reduce stiffness, improve flexibility, increase your range of motion, and reduce pain in joints and muscles.


2. Walking
Walking is one of the most important things seniors with arthritis can do. Apart from being a great form of exercise for arthritis, walking improves your overall wellbeing. You can either walk indoors on a treadmill or outdoors on a sidewalk, trail or track. Regardless of the option you prefer, remember to start slowly, move gently and adjust your routine accordingly.
When it comes to managing arthritis, this gentle workout will soothe tired and achy joints. Walking also strengthens muscles, keeps cartilage healthy and improves your balance. In addition, it can help you lose weight or maintain a healthy weight. This can go a long way in relieving arthritis pain.


3. Cycling
Cycling is a fun activity that provides numerous health benefits. Generally a low-stress exercise, you can cycle for years without straining or harming your body. Similarly, cycling can make for a great way to exercise with fellow seniors.
For older adults suffering from arthritis, cycling is a safe way to get your joints moving. The activity helps to lubricate joints, effectively improving joint flexibility.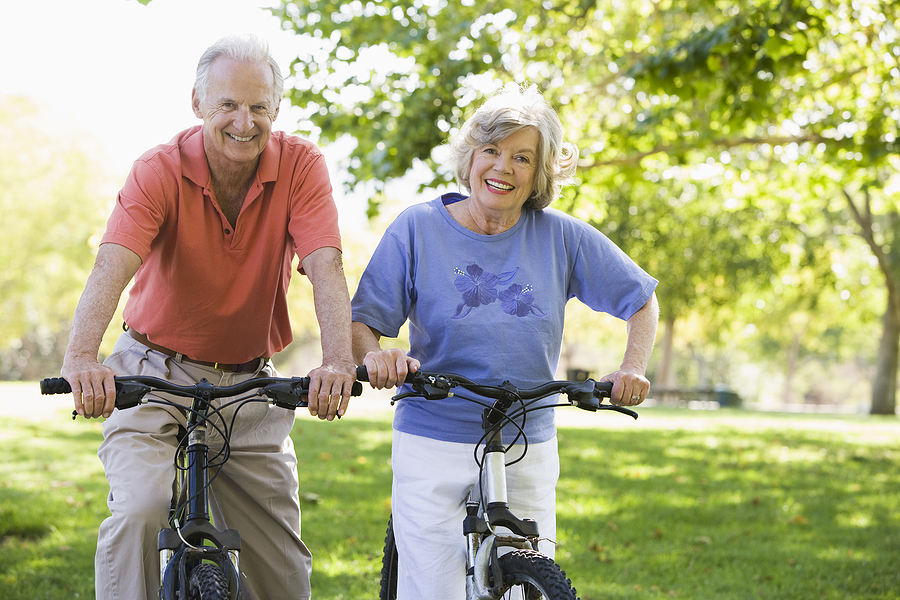 4. Yoga
Practicing yoga regularly can help to slow down the progression of arthritis. Unlike many forms of exercise, yoga gently encourages movement. Similarly, since the movements can be modified to your abilities, you can enjoy yoga regardless of your age or limitations.
When practiced correctly, yoga improves joint health, which in turn contributes to greater flexibility and increased range of motion. This makes it one of the most effective exercises for arthritis.


5. Water Aerobics
Water supports most of your body weight when exercising. As such, water exercises allow joints to move more extensively without impacting heavily on them. This can be particularly beneficial if you have arthritis in multiple joints. Apart from swimming, other water exercises that can help with arthritis are aqua jogging, leg lifts, standing water push-ups, and lifting weights in water.


Other Ways To Manage Arthritis
When it comes to managing arthritis, staying active is important. However, in addition to exercise for arthritis, there are a few other things you can do to prevent or manage the condition. They include:
Eating a healthy diet that is rich in omega-3s and low in sugar
Staying within a healthy weight range
Quitting smoking and cutting down on alcohol
Getting routine preventive care
---
If you or your loved one is living with this condition, learning how to improve arthritis can help enhance your quality of life. At Sarasota Bay Club, our state-of-the-art amenities and array of high-quality services are designed to cater to your ideal retirement lifestyle. Contact us now to learn more about us and how we are the retirement community for you.