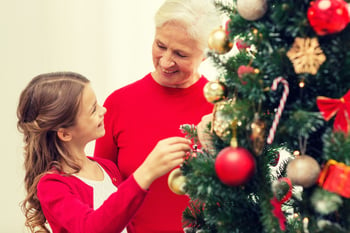 The holidays are a time to enjoy being with friends and family. You can reminisce about fun times you've had in the past while creating new memories that will last for a lifetime.
Related Blog: Staying Active is Easy in an Independent Living Community
If you'll be visiting Sarasota Bay Club during the holidays, we're excited to have you! Here are some ways to make the most out of your visit while you're here:
Incorporate Kids
Kids always add an exciting element to the holidays. If you have your own children, bring them with you when you visit your parents. If your kids are grown, or if you don't have any, consider bringing nieces and nephews. The youthful exuberance that children bring to the holidays will almost always bring a smile to those around you.
Decorate with Treasured Pieces
Even if you live out of state and are traveling to Florida to visit your loved one, you can fit a treasured decoration or two into your suitcase. Memories can be found in the smallest of items, from tree ornaments you handcrafted as a kid to a nativity scene that used to decorate your mantle every year when you were young. Just a few treasured pieces from holidays past can make a big impact when it come to celebrating this season.
Relive an Old Tradition
Is there something your family used to do each year when the holiday season came around? Perhaps you used to bake cookies together, or maybe you would take a family trip to see The Nutcracker. Most families have some sort of holiday tradition, even if you didn't realize it was a tradition when you were younger. Think back on years past, and find ways to reinvent things you used to do together as a family.
Host Story Time
Over a great meal or a cup of cocoa, encourage your parents to tell stories about their lives. They probably have tons of stories they've never told you, and when you create a forum for their tales, you can learn a lot about your parents and your entire family history. You may be surprised about the antics and interesting facts you've never even known existed. These stories can then become a part of the traditions you pass down to family members.
How do you plan to enjoy the holidays when you visit your loved one? Please share your fun plans with us at our Sarasota Bay Club Facebook page!