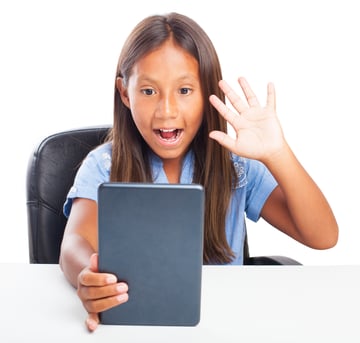 If the retirement community you live in isn't close to your family, it can be challenging to keep in touch. Fortunately, today's technology offers many ways for you to connect instantly with your grandkids through texting, email, video chat and social media. Although in-person time with your grandchildren is great, using technology can sometimes give you a deeper connection, especially with teenagers who may not always be talkative, but do love to text.
Related Blog: 4 Ways to Connect With Your Grandkids This Summer From a Retirement Community
Video chat
Thanks to modern technology, it's now possible to talk "face-to-face" with your grandchildren via your computer's webcam or your smartphone. Companies are making video chat apps easier to use and more accessible. By following a few setup steps, you can be enjoying some face-to-face time with your grandchildren regularly.
You don't have to be a "techie" to video chat with your grandchildren and there's a good chance that your neighbors or the staff at your retirement community can help you set up your phone or computer for this type of instant communication. Video chat is an especially good way to connect with your grandkids when they're very young because they can see you regularly as they grow up so when they visit you in person, they'll know exactly who you are.
Texting
Talking on the phone is still a good way to connect with your grandkids, but teenagers today are more likely to text on their phone instead of talking on it. Texting might seem daunting at first but once your find a keyboard app that works for you and learn the flow of word prediction you can better keep up with your teenage grandchild. Texting with preteens and teens can make you seem "cooler" in your grandkids eyes. It may take some time to understand the texting abbreviations your grandchildren use, but any age is great for learning something new and staying up to date with technology.

Social media
Getting on a social media platform such as Facebook or Instagram and using that as a way to connect with your grandkids can allow you to see what's going on in their lives while sharing details of your own without being too intrusive. You can "like" their photos and share your own. For photo sharing sites such as Instagram, creating a username that reflects your interests instead of having the word "grandma" or "grandpa" in it helps your grandchildren know more about you as a person.