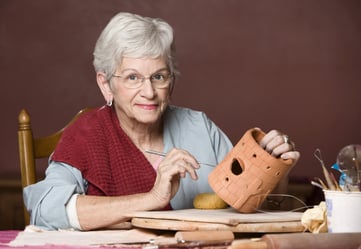 After decades of working on their careers, retirees deserve all the time in the world to purse hobbies and interests they set aside when they were younger and more busy. But some retirees feel overwhelmed in the face of so much free time, for which they can hardly be blamed considering they've gotten used to being running on full schedules.

Related Blog: 10 Ways for Seniors to Stay Safe from the Summer Heat and Sun-Related Risks
At Sarasota Bay Club -- a luxury retirement community in sunny Florida -- we are fully aware of this, so we make sure our residents are never left wanting for activities to do no matter what the season is. Our high-quality amenities deliver many options such mornings of exercise at the fitness club, afternoons of relaxation at the spa, and evenings of socials at our bar and lounge. There's also fun and games in the billiards room, simple splurges at the gift shop, complete makeovers at the beauty salon, full massages at the therapy studio, and cozy reads in the library. If it gets hot, residents can take a dip in the temperature-regulated pool.

Residents who want to explore their creative side can also head to our fully appointed art studio and woodworking shop where staff members are ready to teach and guide.

For residents who wish to host a get-together, there are private dining rooms for parties. Depending on the occasion, they can opt for either a casual or formal dinner setup, which our staff will gladly prepare.

Lastly, residents can request for customized services. Dining, personal transportation and housekeeping are not included in the base monthly fee to give residents the freedom to choose. Some residents have prescribed diets to follow, so their meals are dependent on certain restrictions. Also, some residents have personal housekeepers, removing the need for in-house cleaning services. Nevertheless, for a fee, we offer weekly or bi-weekly housekeeping services. We also provide a Community Bus for transportation, though residents can select car services. Let us know what you like, and we'll do our best to give it to you.

We provide all of these services to our residents in addition to excellent medical care and comfortable accommodations. We want our residents to enjoy carefree living so that they can get the most out of their later years.

Looking for a retirement community in Florida? Contact us to get more information or to schedule an appointment. We're almost halfway through the summer, so don't wait for long!