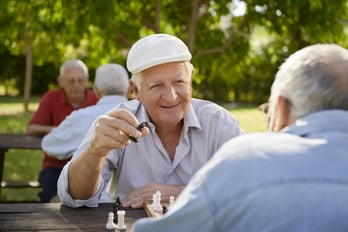 Florida residents enjoy beautiful weather, but it's important to stay safe from the summer heat. Seniors in particular can be at risk for heat-related issues, since some medical conditions and medications can make you even more susceptible to its effects.
Follow these 10 tips to help you stay safe from the summer heat:
Related Blog: You Can Feel Safe Living In a Senior Living Community
1. Save outdoor activities for mornings or evenings
If you're planning an outdoor activity, try to schedule it during the early morning hours or later in the evening. During the hottest part of the day, enjoy indoor activities such as Sarasota Bay Club's yoga and water aerobics classes.
2. Keep track of time
If you're outside, keep track of time so you don't stay out longer than you'd planned.
3. Stay hydrated
Drink plenty of water and other liquids such as fruit juice, which can help keep you hydrated. Avoid alcohol and drinks that contain caffeine, because they can dehydrate you.
4. Wear the right clothing
Your summer wardrobe should include light-colored, loose-fitting clothes that will make you feel cooler and more comfortable in the heat.
5. Wear sunblock
Protect your skin from damage by applying liberal amounts of sunscreen with an SPF of at least 30. Reapply frequently to stay protected!
6. Protect your eyes
Many people remember to protect their skin from the summer sun, but forget about their eyes. Wear sunglasses to protect your eyes from harmful UV rays and to avoid irritation.
7. Recognize the risks
Know how to recognize the risks of hyperthermia and heat stroke so you can get help immediately. These include the following:
Nausea and vomiting
Dry, flushed skin
Confusion
Dizziness
Headache
Rapid breathing
Failing to sweat even though it's hot
8. Take a cool bath
Taking a cool bath or shower can help lower your body temperature and make you more comfortable on scorching days.
9. Be aware of the heat index
The heat index, which factors in temperature and humidity, is often publicized on weather apps and websites, as well as on TV and in the newspaper. Take special care when the heat index is high.
10. Talk to your doctor
Talk to your doctor about any specific medical conditions you have and any medications you take to find out if they make you more prone to becoming overheated or dehydrated.
Contact us today to find out more ways we can help you stay safe from the summer heat while still enjoying the day.