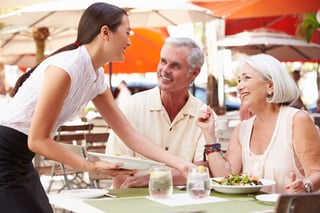 Healthy eating is an essential part of staying healthy at any stage of life, including retirement age. Getting a good balance of all the elements you need to sustain body and brain activity, combined with great tasting food makes those golden years just a little shinier. Here are just of the few local restaurants you should consider supporting to stayhealthy and enjoy your local community!

Related Blog: 5 Brain Superfoods Seniors Can Introduce to Their Diet This Summer
Raw food has been a popular way to stay healthy for years, and Ionie brings a whole new dimension to raw food, serving their own take on everything from breakfast, pizza, and burgers, to lasagna. Even vegan options have never been so tempting. Situated on Fruitville Road and open from 8:30 a.m. to 3 p.m. for dining in options, or until 5:30 p.m. for pick up orders, you can even call ahead to have your favorites ready and waiting for you.
If raw food or vegan is not for you, or you just want to experience a wider choice, then try The Veg. They cater for vegans, vegetarians, and lovers of seafood. As well as providing healthy, sustainably produced food, The Veg takes food intolerances and dietary requirements very seriously and can adapt much of their menu to suit your needs. The Veg can be found on Gulf Gate Drive. Hours vary throughout the week and there is no dinner service on Sundays. It is a great place to take visiting family. There is no need to worry about taking kids; there is a kids menu to meet their needs as well.
This is much more than just your average coffee house. Here you will find amazing whole foods that are locally sourced, organic and very tasty. The menu changes regularly and features daily specials, including soups made fresh on the premises. If you are a meat eater, then this is certainly a place for you to try. Nestled amongst the vegan and vegetarian options are some classic meat-based dishes including the Full Monty breakfast. Simon's is family run and open from 8 a.m. to 4 p.m. every day except Sunday. Details of their take out service can also be found on their website.
If you are looking for real taste variety from around the globe, as well as fresh organic produce, then visit to Sun Garden Café is a must. Their extensive menu that includes numerous meat-free options. Found on Avenida Madera, the Sun Garden Café also offers catering options for those big family occasions. Open from 7:30 a.m. every day, the café is also pet-friendly.