Florida seniors are taking the pandemic in stride. Sarasota Bay residents have found ways to safely stay social. Seniors are adapting activities to include social distancing regulations. Get creative!!
Related Blog: Social Distancing Tips to Stay Safe


Activities that Naturally Social Distance
Florida's picture-perfect weather makes it easy to find good socially-distanced activities outside that are safe, keep you active, help you socialize, and are fun!
Play Pickleball
Some activities, like pickleball, are not only popular with seniors, but have built-in social distancing by design. Sarasota has more than a dozen outdoor pickleball courts and half as many indoor. Whether you prefer to play inside or out, Sarasota has you covered!
Pickleball is enormously popular with people of all ages, but especially within the senior community. The court is large enough to accommodate four players without breaking social distancing requirements. Enjoy getting together with friends and play a game of doubles without worry.
Cycling At One of Sarasota's Famous Parks and Trails
Cycling is another great way to hang out with friends while social distancing. Get your bike out and ride! Sarasota's Manatee Bicycle Club welcomes members of all ages. Recently they gifted 90-year-old Leonard Grad a lifetime membership in recognition of his love to ride. It's easy to social distance even on a club ride. The multi-group rides offer different speed groups and are followed by brunch on Fridays. Check out their calendar to find a ride that's right for you.
Flying a Kite on the Beach
If you enjoy the beaches of Sarasota, then flying kites is for you. Kite flying has been a popular pastime for ages, but it's also a sport. Kiteboarding and kitesurfing are popular sports along the beaches of Florida. Flying stunt kites is a relatively modern version of kite flying. If competition isn't your thing, spend a relaxing day flying simple kites at the beach with your grandkids.
Golfing with friends has always been popular in warm weather areas like Florida. Forget the golf cart and walk the course. Seniors that walk rather than ride will get more exercise and observe social distancing measures at the same time.
Kayak on Florida's Many Unique Waterways
Kayaking is another great way to stay active in Sarasota. Guided tours ensure novice kayak users and veterans alike a great experience on the water. The nimble kayaks are able to navigate twists and turns of the mangrove tunnels better than larger craft. Small group tours are the best option if you or someone in your group will be kayaking for the first time.
The Mangrove Tunnels & Manatee and Dolphin watching tours are unforgettable. Ecotourism helps preserve the manatee habitat from further coastal development. There is no way to describe the feeling of seeing a manatee swimming next to your kayak. Some things just have to be experienced in person.
Manatees love to hang out in the mangrove tunnels of Sarasota. The calm water and protection provided by the trees makes the perfect habitat for these amazing creatures. Whether or not you have tried kayaking before, a guided tour through the mangrove tunnels is an experience you'll want to have again.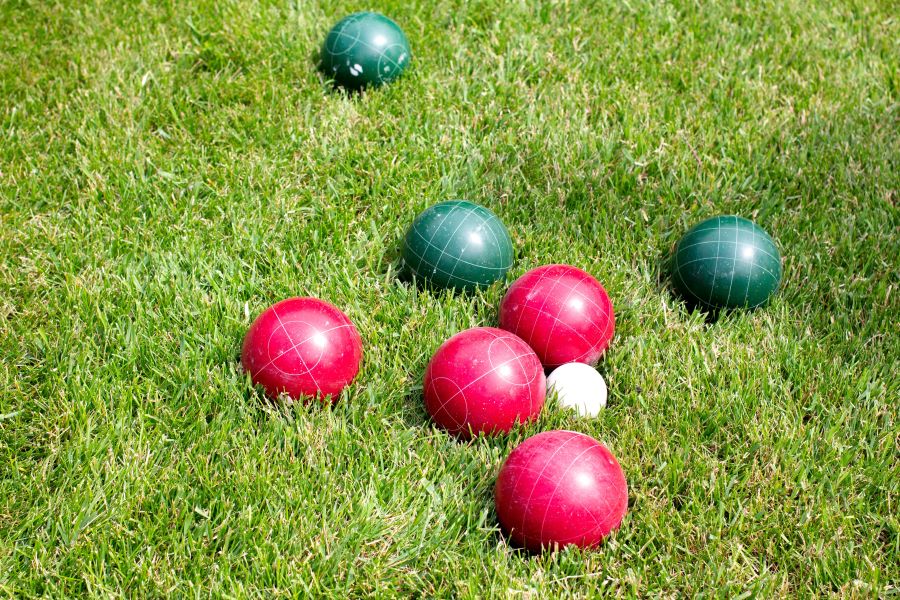 Activities for Seniors With Limited Mobility
If pickleball and kayaking aren't for you, try out some of these fun activities that also lend themselves to social distancing.
While you are sitting at home why not invite your friends into a virtual book club? Many people in high risk groups just don't feel safe leaving home yet. A safer alternative than in-person book clubs, online book clubs are a fun way to stay connected with your fellow book lovers. Enjoy discussing your favorite books using video conferencing software like Zoom.
Petanque of Bocce Ball
Seniors that want to get outside but don't have the stamina for most aerobic activities will enjoy petanque. This popular game is played worldwide. As its name implies (for French/Occitan speakers) it is played with the feet securely fixed to the ground. While not every language is reflected in its name, petanque is a truly international sport. It's a fun and competitive game that is perfect for those of us who haven't got the legs for running, but can still swing our arms about and are competitive at heart!
Tour Sarasota's Amenities and Activities
Don't miss the Sarasota Jungle Gardens, Selby Gardens, and the other beautiful locations and activities around Sarasota that are socially-distanced approved. These beautiful gardens are accessible to all, and easy accommodate social distancing measures.
---
Even through these difficult times, Sarasota and the residents at Sarasota Bay Club have found ways to socialize, have fun, and stay active, all while being safe, healthy, and properly socially distant. To learn more about how you can find strength in the community, contact us today or schedule a private tour.