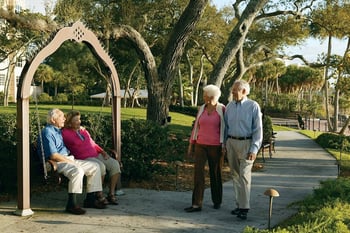 Walking is a fun way to stay active while exploring the outdoors. Among the many health benefits from walking are improved balance, stronger muscles, and the prevention of weight gain. When it comes to finding the right walking trail for you, Sarasota has a variety of trails for you to choose from. You can even mix it up by visiting different trails, depending on your time and interest. Walking with a partner makes your journey safer and more enjoyable, so put on your walking shoes, call a friend and head for one of these popular Sarasota walking trails today:
Related Blog: 5 Apps That You Can Download to Exercise Your Brain
The Phillippi Estate Park
Located along the shores of the Phillippi Creek and just south of downtown Sarasota is the Phillippi Estate Park. The park is a 60-acre natural area that is also home to the Edson Keith Mansion which is listed on the National Register of Historic Places.
Visitors to the park enjoying walking trails along the creek, past the mansion and carriage house, and by the rose garden. For extra enjoyment, download the Florida Stories app to listen to stories about the park as you stroll.
Bayfront Park/Marina
This park offers opportunities for birdwatching, walking, and more, all with the added convenience of a downtown location. Bayfront Park has scenic views and public art. Pack a picnic lunch or enjoy dining at one of the bayfront restaurants.
Eloise Werlin Park
Featuring walking trails and fabric shade structures, this park combines the opportunity to stay active and to rest in the shade. The Eloise Werlin Park sits on the eastern base of the John Ringling Causeway Bridge adjacent to Hart's Landing. Benches dot the trail paths and make a great place to sit and enjoy the scenic water views.
Central Broadway Park
Also known as the Boulevard of the Arts Park, this park features a walkway over a tidal lagoon. The Central Broadway Park is home of the Bayfront Baywalk and the location is perfect for viewing a sunset or an early morning stroll with a friend.
Arlington Park and Aquatic Complex
Enjoy the half-mile walking trail then cool off with a swim in one of two pools. Located less than two miles from downtown Sarasota, the Arlington Park and Aquatic Complex is a featured site on the Great Florida Birding and Wildlife Trail. In addition to the walking trail and pools, visitors can enjoy racquetball, an outdoor fitness gym, and much more.
Enjoy an Active Lifestyle at the Sarasota Bay Club
It's easy to remain active while living at the Sarasota Bay Club. With our convenient location to Sarasota parks and walking trails, you'll find many options for stretching your legs while enjoying scenic views. Should the Florida sunshine not cooperate, enjoy a swim in our heated pool or workout using our easy-to-use fitness equipment.
Other activities available at the Sarasota Bay Club include billiards, an art studio, a woodworking shop, and much more. There's always something to do and when you need some downtime to relax, we have you covered. A visit to the onsite hair salon, to the spa, or the library for a new book can help you unwind after a busy day.
To learn more about the lifestyle amenities and options at the Sarasota Bay Club, contact us to arrange a personal tour. We love introducing visitors to all that makes Sarasota Bay Club a special place. Our friendly and professional staff can also direct you to these and other Sarasota walking trails. You'll find there's plenty to do to keep you active and healthy in and around the Sarasota Bay Club.