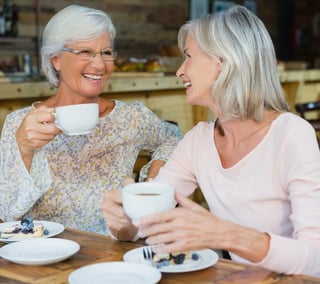 There's no doubt that the Sarasota, Florida area is a vibrant community for retired adults and their loved ones. Sarasota is quiet enough for retirees to enjoy peace and tranquility, but also is full of a vibrant artistic culture that bring stimulation and engagement.
Related Blog: 5 Places To Go In Sarasota To Experience Arts & Culture
The good news is that you don't have to hire an in home assistant or start ordering meals in, just to save Sarasota's refined lifestyle comes with a strong culture of charming coffee houses. Coffee houses not only get you moving first thing in the morning, they also provide stimulating environments to meet people and read about the latest news. You'll definitely want to put these four local coffee houses on your must visit list in Sarasota.
The first thing you'll notice when you drive up to Perq Coffee Bar is the sophisticated wood furnishings. Polished multicolored wooden slabs line the exterior and interior walls, tables, and high ceilings. Welcoming and friendly baristas will greet you as soon as you enter and ask for your order. The atmosphere is quiet, making this the perfect place to catch up on your reading or e-mail.
Perq's delicious Kuma Coffee, which you can order by the cup, bag, or through a monthly subscription, is also ethically sound. Kuma chooses unique coffee blends from all over the world, and is a fair trade brand. Treat yourself to an espresso made using Perq's unique Slayer machine, and indulge in their delicious Lollicake Queen cake bites.
Mama G's Coffee might be a relatively new establishment, but its roots go back decades. The business is owned by a family who makes baked goods with recipes and ingredients they got from their grandmother. You'll feel right at home immediately with this warm family establishment, with an adorable and charming atmosphere topped off by brightly colored and polka dotted walls.
Mama G's has a nice selection of drip coffee and specialty drinks, but what locals love most about this spot is the food. The coffee house serves an excellent variety of breakfast and lunch dishes suitable for a range of dietary needs. And don't forget to partake in the amazing baked breads, pastries, and cinnamon rolls. Come first thing in the morning before they sell out!
Located just a short distance from Downtown, The Reserve is the perfect coffee shop to sip at your beverage in an intimate and sophisticated environment. If you're looking for variety or options for a large group, you can't go wrong here. Along with a coffee house, The Reserve triples up as a bookstore and marketplace. The beautifully decorated space has many different places to sit, including indoor and outdoor options, the main indoor seating area, and quieter rooms upstairs.
The coffee shop sells a number of coffee drinks, teas, hot chocolate, and beer and wine in the afternoon. Come all day to enjoy treats like hot rolls, and in the evening hours to be treated to live music.
Don't be fooled by Elixir Tea House's name; it sells a long list of teas, coffees, and treats. The beautiful lit, cozy ambiance is capped off by soft lighting, delightfully sweet decor, and comfortable seating. Go to one of the side private rooms for the opportunity to take your coffee or tea in an area that's comfortable and intimate.
Elixir Tea House makes a large number of specialty coffee drinks, and knows how to do it right. You can also choose from many herbal or caffeinated teas, and get your own pot or split it with a friend.
The fun coffee house culture in Sarasota, that's friendly to its residents of all age groups, is just one of the reasons that US News & World Report recently named Sarasota the #1 best place to retire in the US. If you make your retirement home Sarasota, you'll find yourself living in a cosmopolitan area with beautiful weather, great beaches, and a large retirement community. Contact us to learn more about life as a retiree in Sarasota.