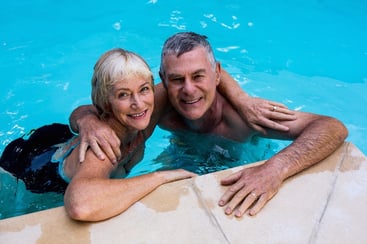 Staying active and getting exercise is an important part of senior life. When you are looking for places to retire, look at locations that offer amenities that will help you stay active. Retirement communities that offer fun and exciting physical activities will also help you stay social. With regular exercise and social activities seniors stay independent for years to come.


Related Blog: Staying Active is Easy in an Independent Living Community
Staying active is easy with these tips:

Dancing - Dancing is a great way to improve your balance, get some exercise, and socialize with your friends. The cardiovascular benefits are great and you can learn everything from two step to swing dancing.

Yoga – You will be able to stretch your way to lower stress and in some cases ease your aches and pains. Yoga helps to strengthen your core and increase blood flow.

Swimming – Water aerobics and swimming offer you a healthy way to get in your cardio work out with a low impact activity. You can swim laps, jog, or join an aqua aerobics class and exercise while you socialize with friends.

Golf – Whether you are out walking the course or just hitting balls at the driving range you will be getting a good workout, and have a chance to socialize with friends when you are playing golf.

Gardening – Potted plant gardening gives you an opportunity to keep flowers and even vegetables on your patio. With raised pots you will reduce bending and strain on your back, while getting in a relaxing activity and can reduce stress.

Volunteering – Giving back not only makes you feel good, but it helps others in need too. You can walk dogs at the local shelter, read books to kids at the library, or help out at the local clinic or hospital.

Play with the Grandchildren – Spending time with the little ones in your life will keep you moving, and the more time you spend laughing the less stress you will feel.

Staying active does not always have to involve exercise. Play a game of billiard with friends, enjoy a nice dinner, or go for a couples massage. Getting out and active with friends will help you contribute to your local community, and stay involved. Independent living communities offer dozens of ways to stay active. Sarasota Bay Club is a great example of a retirement community that offers the amenities you need to stay active.