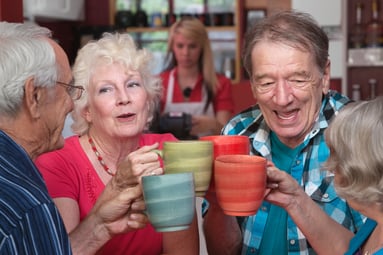 When family comes to visit, there is nothing better than sharing a great meal together. However, catering to the needs and tastes of every member of the family can be difficult, so make sure to visit one of these five restaurants in Lakewood Ranch for guaranteed tasty food and great memories.


Related Blog: Moving a Parent to a Retirement Community Preserves Parent-Child Roles
A Scottish themed bar and restaurant, complete with tartans and Braveheart burgers, McAllisters is famed for both its food and its friendly atmosphere. Both lunch and dinner menus offer a fusion of American food and Scottish taste while the kids are catered to with their own special selection of dishes. The restaurant prides itself on taking care of its guests with additional food needs and offers a gluten-free menu. The staff will also work to adjust any other menu item to your needs. Based on Lakewood Main Street, McAllisters is open every day and offers a special brunch on Sunday's.
Located at San Marco Plaza, Thai Spice offers the best Thai style food and Sushi in Lakewood Ranch. The restaurant offers lunch and dinner menus, including one for the kids. Weekday lunches include a complimentary cup of soup and an egg roll while there are new and exciting chef's specials available during weekends. The Thai Spice opens at 11 a.m. Monday through Saturday and ends lunch service at 2: 30 p.m. Dinner service starts at 4:30 p.m. every day, including Sundays.
If you are looking for something different such as a late breakfast or brunch, you will find Station 400 on North Lemon Ave. The size and quality of just the breakfast menu will have you going back time and again. The lunch menu provides just as much choice with soups, salads, and sandwiches. Station 400 is open from 7:30 a.m. and has a no reservations policy, so get there early to ensure you get a table.
Located in the Ace Hardware Plaza, The Granary is open until 3 p.m. every day and offers an extensive range of foods for breakfast and lunch, including kids and gluten-free menus. There is even a selection of cocktails for those looking to spice up their lunch just a little.
If seafood is something you enjoy, then this is a place that you and the family really need to visit. The menu features fresh local ingredients, including local seafood. Situated on Rodeo Drive and open from 11 a.m. until 10 p.m. every day, Pinchers offers daily specials and a separate menu for the under 12's. All of this is topped off with a friendly atmosphere and helpful staff.