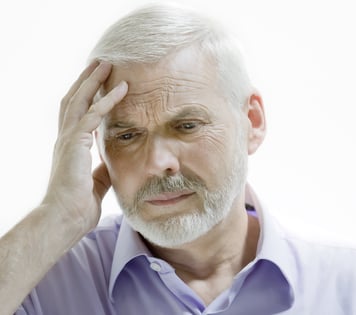 Worrying about your memory? These five tips can help keep memory loss at bay well into your senior years.

Related Blog: Staying Active is Easy in an Independent Living Community
1. Eat Healthy
It may not be the first thing you think of when you consider brain health, but eating the right foods is crucial to your overall wellbeing—not just the more obvious stuff. After all, your brain is an organ too; just like your heart or any other important part of your body, its well being is greatly influenced by diet.
2. Maintain a Fitness Routine
A healthy mind resides in a healthy body—it's not just a saying, it's a medical fact. By keeping your body fit, you aid yourself in a number of ways. First and foremost, you keep certain health conditions likely to negatively impact your memory at bay. Second, exercising helps you sleep well at night—something that's also important to maintaining a healthy memory, at any age. It's also a lot easier to maintain a healthy active social life if you're fit, which is important to your memory.
3. Socialize
Many seniors face challenges maintaining an active social life, but it's crucial to your memory that you do. Sitting in your room by yourself, doing the same things over and over, is bad for your mental health, it's bad for your memory, and it's bad for your general wellness. If you're struggling to socialize, but aren't sure why, you could be suffering from depression—a common ailment at any age, one that many seniors don't recognize or think is simply part of the aging process. Living at a luxury retirement community in Sarasota, Florida can aid you in keeping an active social life with groups and activities right outside your door.
4. Engage in Mental Exercise
Whether it's playing chess with a friend, solving Sudoku problems each evening, or browsing the internet keeping up with world events, it's all good for your mind. Exercise your brain the same you would any muscle, and it will stay fit and keep doing its job. Sit by yourself watching television reruns, and your memory will suffer immensely.
5. Manage Chronic Health Conditions
Pay attention to what your doctor says about your health, and keep up with managing health conditions. Anything from high blood pressure to liver problems can directly impact your short-term and long-term memory. Many forms of Dementia stem directly from physical ailments.

Staying active, physically and mentally, can help your memory stay sharp. If you're struggling to maintain an active and healthy lifestyle, you may want to consider a retirement community. Independent living communities allow you to easily keep up with healthy eating habits, and stay socially and physically engaged within the community.