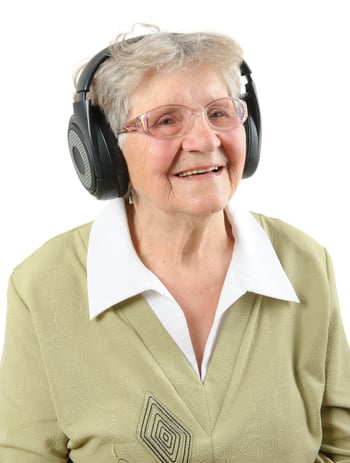 Memories are meant to stay around forever, but sometimes we don't get to control which memories stick around. As we age, memories tend to fade.
Related Blog: 5 Apps That You Can Download to Exercise Your Brain

According to the Alzheimer's Foundation of America, music has the ability to shift moods and stimulate positive interactions. People with Alzheimer's, even those who are suffering from late stages of the illness, have been known to realize facilitated cognitive function and coordinated motor movements when music therapy was used properly in their presence.

Although Alzheimer's attacks many parts of the human brain, studies have shown that the part of the brain linked to musical memories is often relatively unaffected by the disease. Because musical memories often remain intact for patients of Alzheimer's, music tends to have positive emotional and behavioral effects on those who are battling the illness. The calming effect is one of the benefits of music that is often as advantageous to caregivers as it is to the patients themselves, allowing a more peaceful interaction facilitated by a reduction in stress, anxiety, depression, and agitation.

The Mayo Clinic suggests considering the following factors if your are exploring the benefits of music for your loved one:

Choose the Right Type of Music
It's important to remember that you're not selecting music you would listen to as you drive to and from work. To achieve optimal benefits of music, you'll want to choose a genre of music that your loved one would enjoy. Are there certain songs, artists, or eras that would be more likely to evoke memories? Which part of your loved one's life is most likely to be filled with pleasant memories? You may not know the answers to these questions, so reach out to family members and friends of your loved one for assistance while you're creating the perfect playlists.

Be Mindful of the Mood
Over-stimulation often has the reverse effect from what you're trying to accomplish. Remove competing noises from the environment, turn off the TV, and eliminate other distractions. If you want to create a calming effect, go with a soothing music. If you're trying to encourage movement, try a more upbeat type of tunes.

Pay Attention
If you see a positive response, bookmark that song in your playlist.

Have you experienced benefits of music when it comes to your loved ones who have memory loss? We would love to hear your stories at our Sarasota Bay Club Facebook page!