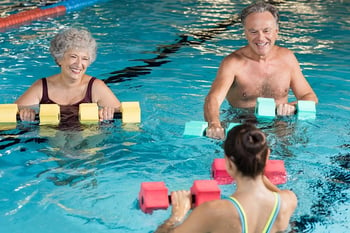 Swimming is a great way for seniors to remain active due to the sport's low impact and low risk of injury. This enables seniors to exercise without adding any strain or stress on the body. Seniors who swim can improve heart health and flexibility, as well as improve your mood. Sarasota offers a variety of options for swimming. Here's a closer look at some of the top places where seniors can swim in Sarasota:
Related Blog: Staying Active is Easy in an Independent Retirement Home
Arlington Park and Aquatic Center
Operated by the City of Sarasota Parks and Recreation District, this park and aquatic center is just two miles from downtown Sarasota. The aquatic center features two pools:
One 50-meter lap pool

One 25-yard pool

In addition to the aquatic center, the park features a variety of other activities like walking trails and an outdoor gym. Be sure to inquire about special programs and about senior rates. Monthly passes are also an option.
Lido Beach Pool and Pavilion
Enjoy the best of the beach and a pool at the Lido Beach Pool and Pavilion. Watch the waves of the Gulf while enjoying the 25-meter/5 lap beachside pool. After a swim in the pool, treat yourself to a stroll along the beach. Refreshments and a snack bar are available, along with restrooms and plenty of parking. Ask about senior admission rates.
The Robert L. Taylor Community Complex
This complex features a variety of water activities to keep you active and wet. The large pool includes a Jacuzzi area and opportunities for swimming laps. There's plenty of outdoor seating and lockers for storing your personal items. If grandchildren come to visit, take them to the Robert L. Taylor Community Complex for the Splash Pad Zone, sure to incite lots of giggles and fun!
HealthFit Aquatic Classes
Powered by Sarasota Memorial Hospital, these specially designed aquatic classes target certain ailments. The Smart Moves Pool Program, for example, is for those with progressive neurological disorders, like Parkinson's Disease or Muscular Dystrophy. Another program, Therapeutic Splash, targets joints and is helpful for patients with arthritis. Healthfit requires a membership.
Stay Active at the Sarasota Bay Club
An active lifestyle keeps you healthy and feeling great. Swimming is a fun way to keep physically fit while improving your mood at the same time. At the Sarasota Bay Club, our indoor heated pool can provide you with onsite swimming so you don't have to leave the complex. In addition to our heated pool, the fitness center features state-of-the-art equipment by the award-winning Keiser Equipment.
If an outdoor pool is more to your liking, the opportunities listed above can serve your desire to swim in the sun. Just remember to apply sunblock and to protect yourself from the sun's harmful UV rays and be sure to stay hydrated. Ask your doctor or pharmacist about any dangers with exposure to the sun and your medications.
At the Sarasota Bay Club, we offer a variety of activities and entertainment for you to choose from. Live music, interesting lectures, ice cream socials, and card games are just a few of the ways you can interact with others and relax. An onsite art studio, woodworking shop, and opportunities to go off-site on a grocery shopping trip are all part of what we offer residents.
Explore the many amenities and meet our friendly and professional staff by scheduling a visit today. We can't wait to show you around the Sarasota Bay Club and our indoor, heated pool! Contact us today to learn more about our floor plans and your options for living at the Sarasota Bay Club.