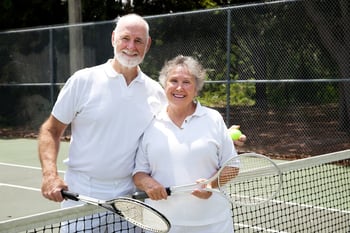 Active senior living has never been easier than here at Sarasota Bay Club. Our waterfront campus offers a bounty of exciting and engaging activities for members to take part in. Here are just a few of the ways you can enjoy active senior living in our community.
Related Blog: How to Live Life to the Fullest at Sarasota Bay Club

Take part in an exercise class.
You can start your morning with some aerobic exercise at the club's state-of-the-art fitness center, or, if exercising on your own is a bit too dull for your taste, join one of our many group classes for a fun and social way to stay in shape. Classes range from water aerobics in the on-site custom-designed pool to directed yoga overlooking the water.

Learn a new skill.
Learning new skills or refining old ones can keep your mind sharp and your dexterity up no matter your age. At Sarasota Bay Club, we have a fully appointed art studio, woodworking shop, and other areas designed with creatives in mind. Take a class in watercolor painting or chat with new friends about the best wood staining techniques.

Explore new areas.
Just because the residence offers a ton of great options for you to stay active, it doesn't have to take your sole focus. One of the biggest reasons seniors choose us is our location in the heart of downtown Sarasota. Grab your new found friends and have a picnic at the bordering Whitaker Gateway Park or Centennial Park. Love theater? Just a few blocks south is The Players Theater, a community theater mainstay offering exciting shows, classes, and workshops. Or if shopping is more your style, the exciting shops and restaurants of Sarasota are just a hop away.

Join a club or group.
Meeting with new people and sharing a common interest is a great way to stay active, be social, and learn. The community spaces at Sarasota Bay Club are designed to facilitate these exchanges so that whether you want to join a book club or have board game nights, we have a place for you with our stocked library, billiards room, and private dining rooms for social events.

To find out more about the activities and amenities our campus has to offer, contact Sarasota Bay Club today. We believe that the Golden Years are the perfect years to welcome new experiences that'll bring you joy and excitement with active senior living. Come join us!