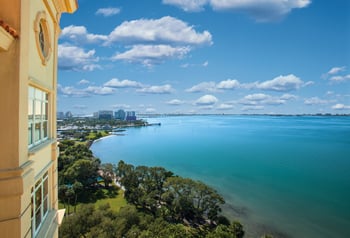 Sarasota Bay Club is a special community, and we'd like to help you get to know us with these 10 fun facts:
Related Blog: Explore New Hobbies at Sarasota Bay Club
1. Our location is spectacular.
We overlook Sarasota Bay and Longboat Key, so you'll have beautiful views and recreational opportunities just outside our resort. We're also in the heart of downtown Sarasota.



2. Our fitness center is state-of-the-art.
Our residents have a heated pool for their enjoyment, and our fitness center features state-of-the-art equipment designed by the Keiser Institute on Aging.

3. We make transportation easy.
We have valets available around the clock to help retrieve and park your car and bring your purchases to your home. We also have a car transportation service and Community Bus.

4. Our residents make a difference.
Our community partners with local groups to provide mentorship, reading support, and further collaboration with young people in the area.

5. We make staying well easy and convenient.
We have a doctor on site, as well as an in-house home health agency and a skilled nursing/rehabilitation center. Whether you're recovering from a health setback or would simply like to stay in good health, we make it easy.

6. Our residents own their condominium homes.
Our residents have clear title to their homes and can live there for the rest of their lives. When they vacate their unit, it reverts back to Sarasota Bay Club, but the resident or their estate is refunded according to the type of plan selected.

7. We offer activities for every interest.
From our woodworking shop to our many cultural performances, we have activities to match every interest.

8. We have a variety of beautiful dining venues.
Dress up and enjoy a meal in our main dining room, or dine in our more casual Veranda Room. We also have a private dining room as well as a bar and lounge.

9. We have our own library.
Sarasota Bay Club has its own library and reading room, as well as a book club. If you love to read, you'll have plenty of opportunities to find a new book to read and share.

10. We have larger and smaller condominiums.
We have one-, two-, and three-bedroom condominiums from which to choose, so whether you prefer a larger or smaller residence, we have one to suit your needs.


To see for yourself what makes us a special senior living community, contact Sarasota Bay Club today!