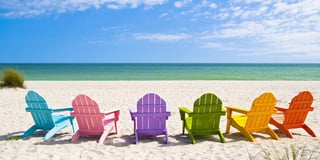 When you live in a luxury retirement community in Sarasota, Florida, you have numerous amenities and activities to enjoy. As an added bonus, living in Sarasota means you're close to a large variety of other beautiful vacation destinations. Next time you're in the mood for an adventure in the tropical sunshine, consider a day trip to Sanibel Island, Boca Grande or Naples.

Related Blog: Living at Home vs. Moving into a Full-Service Retirement Community
Sanibel Island
If you love collecting beautiful shells, Sanibel Island will seem like paradise to you. With every wash of waves onto the sparkling sand, you'll see an amazing assortment of stunning shells. Shells are so abundant in certain areas of Sanibel Island that the shallows can appear to be more shells than sand. Along with shell collecting, Sanibel Island is home to fun boutique shopping, bicycle paths, unique dining, nature trails and a wildlife refuge. Make sure to stop by the visitor's center upon arrival and ask one of the helpful volunteers about the best places to enjoy your favorite activities.
Boca Grande
Take in the beauty of "Old Florida" with a tour of Boca Grande on the Grand Barrier Island of Gasparilla. With a dedication to preserving essential parts of Florida's history, Boca Grande features streets lined with historic trees and a lighthouse that's over 100 years old. The white sandy beaches call to residents and tourists alike and it's a favorite fishing destination. The cerulean waters give a Caribbean feel to the area and along with fishing, Boca Grande offers great shopping and dining. Browse through the shops, find treasured antiques and pick up some new art in one of the many galleries. Stay well fed with delicious dining options offering fresh seafood and other favorites, all within Boca Grande.
Naples
For golf lovers, Naples, Florida is the place to go. Home to numerous national, state and professional golf tournaments, Naples offers a golfing experience like no other. Along with the playing through the various courses, you have the added pleasure of nature viewing as wildlife, such as osprey and eagles are abound. At the end of a day full of adventures in Naples, relax with a wonderful meal at a casual cafe, five-star restaurant, or waterfront bistro.
Day trips from your Sarasota luxury retirement community offer a nearly endless variety of adventures. When you live at Sarasota Bay Club, you can spend your golden years taking in all the sights, sounds, and fun of sunny Florida.