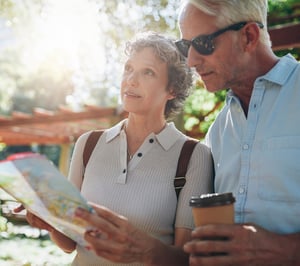 Seniors have worked a majority of their lives to take care of their families and assume adult responsibilities. Now that they're entering the later stages of life, they want a break! Traveling is on most seniors bucket lists. Whether it's a tropical escape or a tour of Greece, there are many vacation experiences for an older generation waiting to be explored.
Seniors have already raised kids and dealt with those responsibilities, now is the time to have a well-deserved luxury vacation for themselves.
Here are 4 amazing senior exclusive experiences they're sure to love:

Related Blog: Start the Best Times of Your Retired Years at Sarasota Bay Club
Caribbean Getaway
For all the seniors who love beautiful weather, palm trees, sand between their toes, and the sound of ocean waves crashing them to sleep, a Caribbean getaway is perfect. Luxurious all-inclusive Caribbean vacations include a cushy place to rest your head to fine dining and everything in between. Forget rowdy party-going students and young families, top senior resorts offer the peace and quiet they crave. Another added bonus is that seniors can meet other like-minded baby boomers who share similar interests and a love for traveling. Some destinations also include top-rate amenities like unlimited golf, personal trainers, and spa treatments.
Guided Tours
The urge to see the world and the craving for learning doesn't stop at a certain age. Seniors may desire to go on guided tours to experience new cultures and countries all around the world. There are many companies who offer tours specifically made for seniors so it's smart to ask a travel agent to find the best companies and great deals. Whether it's Europe, Australia, or right here in the USA, there are great companies who will treat seniors like royalty as they discover new destinations and relax in luxury.
Senior-specific tours also take into account:
Access to doctors
Accessibility for seniors with limited mobility
English-speaking destinations (prescriptions, medical advice emergencies)
Access to amenities
Cruises
It's a common assumption that if someone retires, they'll usually be following it up with a cruise. Cruises have been a staple for senior vacations due to their accessibility, senior discounts and built-in itineraries for ease of planning. Cruises are also great for meeting new friends. For a carefree, luxurious vacation, cruises are the perfect getaway.
RV Camping
For all the adventurous and down-to-earth seniors who love the great outdoors, RV camping offers many great benefits for vacationing. If they're willing to put in some planning time, seniors can stay from coast to coast in specific senior RV campgrounds. Only those over the age of 55 are allowed to stay. Thanks to Go Camping America, they've provided a list of the best 55 age and older RV camping sites available across the whole country! These exclusive campgrounds offer a much more relaxing atmosphere than traditional campgrounds. With no job obligations, no kids, and no family to raise, seniors can travel the US wherever they'd like to go. Nature, spontaneity, and comfort are right at their fingertips.
Common Concerns
What if your partner is under 55?
A lot of times senior travel tours and resorts will be more than happy to accommodate partners as long as one of them is over the age of 55.
Are senior specific vacations safe?
Senior resorts, ships, and tours know the importance of safety and being prepared when emergencies occur. They're typically better prepared and equipped to deal with emergency responses than other locations.
Are they all accessible?
Most resorts and cruises that cater to the elderly are equipped with elevators, handrails, and ramps ready and available to help seniors who need them.
Exclusive senior vacation experiences are on the rise. If you or your loved one is looking for a safe, gorgeous, one-of-a-kind getaway, consider one of these four options. Consult with a travel agent for even more locations and other senior-specific ideas. Traveling has never been easier!