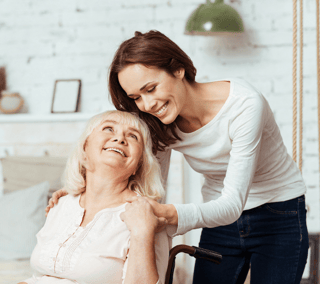 As your loved ones age, common everyday tasks can become more difficult. When you work to keep up with the subtle changes in your routine, keep safety in mind. It makes the changes that are brought on by aging a great deal easier to contend with.
Related Blog: Top 5 Home Safety Rules for Seniors
Here are six safety products that can help your loved ones live independently, and also provide peace of mind to those concerned about their loved one's well-being.

1. Walk in Tub or Shower – A walk in tub gives you the ability to safely enter and exit a deep tub by simply opening a watertight door and stepping in. The deep walk-in tubs and shower tubs are also equipped with a few different amenities that can help sooth sore muscles and give you a comfortable bath. Different features included are:
Adjustable Jets for Massage
Built in Seat
Hand Held Shower Head
Temperature Control
Textured Grip Floor and Seat
Safety Handles
Heated Seats
Scald Protection Technology
2. Emergency Services Notification System – There are numerous types of alert systems that can either be installed in your home or attached to a current phone system. These systems are especially ideal for people who live alone, giving them and their loved ones peace of mind. There are different devices, some are worn around your neck as a pendant and others like a bracelet. Some of these devices have a sensor to determine if you have fallen as well as a pulse and heart rate monitor.

3. Medication Organizer with a Notification Alarm – Whether you are taking prescribed medications from your doctor or vitamins for a healthy lifestyle, it's common that individuals will take their pills at routine intervals throughout the day. Keeping a journal or writing on the pill bottle can be unreliable, however keeping all of your pills organized in a time specific organizer makes it easier to remember when to take them. A medication organizer can be as simple as a seven compartment container for each day of the week, or one that will hold your medications for 31 days. There are also organizers with compartments for morning, afternoon and evening. Some organizers also have an alarm that is activated to notify you when it is time to take your medications.

4. Ideal Clothing and Shoes for Seniors – One thing to consider about clothing and shoes is that they can be made safer with simple changes. Shoe laces come undone and can cause falls, but with special laces made to stay in place, or shoes that do not require laces, you can reduce the risk of falling. Clothing can be difficult to manage when there are zippers and ties that can get hung up. There are clothes made with eye and hook closures that will not only make it easier to use, but reduce the risk of getting caught on a car door or something similar.

5. Lift Chairs – When you sink down into a soft comfortable chair you may be apprehensive about how you are going to get back out of it. Rocking and straining to get back up and out of the chair can pull muscles or aggravate already sore joints. With a lift chair, when you are ready to stand back up, the chair moves forward and up, allowing you to safely stand without straining. Lift chairs also offer extra comforts like:

Massage
Heat
Reclining options
Special storage compartments in the arms
The lift chairs look just like any other recliner and come in all types of materials, as well as different colors, giving you plenty of options.

6. Grab Bars – There are many different types of grab bars that can be used all over your home. They offer much needed support when sitting, standing, and bending. Places to use grab bars would be:
Bathroom - In the bathroom, bars can be placed in and around the shower or tub for getting in and out. A bar with handles near the toilet is used to help with sitting and standing.
Living room – Grab bars can be set up next to the sofa or chair to help with sitting and standing.
Bedroom – A bar on the side of the bed to help getting in and out of bed is helpful. There are also bars that function as a guardrail to prevent falling out of bed.
Any places that you may need an extra hand up is a good place to have either a grab bar or some kind of support railing to help steady yourself. This is especially important for seniors who live by themselves.