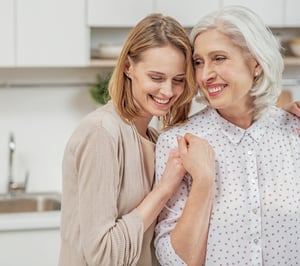 The time has come for your senior loved one to move into an assisted living or memory care retirement community. Although you have come to terms with the need for the move, it might be a bit more difficult for your loved one. As a family caregiver, you understand the importance of keeping your family safe, happy and receiving quality care. Some individuals resist moving away from home and friends they have known most of their life. However, there are key benefits to point on to your loved one about making such an important move.
Related Blog: Living at Home vs. Moving into a Full-service Retirement Community
Hear What Our Residents Have To Say


Comfortable Living Space
Residents have their own private apartment space. There are floor plans that include one or two bedrooms and with 1.5 or 2 baths. Your home is your very own private and safe place. You are allowed to have friends and family over just as if you were living outside the community. Residents are also free to go and come. In fact, many people in these communities still have jobs, drive, and live independently without a significant amount of daily assistance.


Amenities
There are several onsite amenities for all residents to enjoy. If you enjoy staying active and socializing with others, you will not be disappointed with all the things to do in the community. Some amenities that most seniors find attractive include:
Fitness center




Card and game rooms




Full bar and lounge




Heated pool and spa




Onsite Beauty salon



Theater


Conveniently Located
The community is conveniently located to all bayfront attractions. Seniors wanting a fun day trip are only a few minutes away from the bayfront. Residents usually enjoy shopping, dining out, or taking in a movie. Those needing help planning time away can ask for assistance. There are numerous of attractions to see and exciting things do on the bayfront. After enjoying a day out on the town, residents can return home to have their car, valet parked and receive help with getting their packages to their home.


Group Activities
Residents who are passionate about a certain skill they have acquired are encouraged to share and educate others on the subject. Residents have the opportunity to host groups solo or with other residents. Individuals work together to teach and learn new concepts and information. It is a great way to stay active and social with others within the community.


Support Services
Moving to a retirement community does not mean you will be giving up your independence. However, those who do need extra support services will have it available to them when the time comes. Some of these services include:
Meal preparations




Home Health Care When Needed




Light Housekeeping/Maintenance




Rehab/Therapy



Catered Medical Program if Needed


Clubcare Health Services
No need to worry about those days when you are just not feeling at your best. There is a registered nurse available and on call 24 hours a day. The nurse makes house calls when needed. For those who need it, a request to have medication reminders can be set up. Residents can also have their vital signs checked when needed. Special dietary needs can also be addressed by the dietary staff. All residents are kept in close contact with all their health care providers.


Skilled Nursing and Rehabilitation Services
Residents who take ill and need skilled nursing or rehabilitation services can receive that quality care right at The Inn which is still a part of the Sarasota Bay Club campus. There is a 60-bed community on campus that will allow ill residents to receive private and quality care while in recovery. The greatest benefit of already being a resident of the Bay Club is that you will have priority admission if needed.
To find out more fantastic benefits of living at our full-service retirement community contact us today.