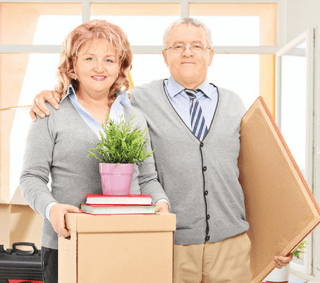 Whether you're preparing to move to a retirement community, or simply shifting to a smaller home, it's always useful to know some valuable storage tips to store with excess items:

Related Blog: Moving to a Luxury Retirement Community: How to Stage Your Home
1. Get Retractable Cupboards
These can be a real space saver! Using a retractable cupboard will allow you to stack it with items and push the entire thing out of the way whenever you need extra space. You can also use this space to store your most valuable items and disguise the front of the cupboard with drapes, paintings etc. so outsiders don't suspect it is actually a holding space.

2. Reuse Containers
Instead of throwing out empty bottles or food containers, use them to store items efficiently in your new home. Small containers work well for storing small valuables that you wouldn't want to keep in a storage unit.

3. Use a Key-Holder Board
It can often be distracting keeping track of multiple keys. The best way to avoid this confusion is to buy a board lined with hooks on which you can hang your keys. The board can also be made to hold other small items, like flash lights, chains, and glasses so they are always at eye level and easy to find.

4. Install Wall Shelves
Usually, residents tend to make do with the wall shelves that a house already has installed in it. But you can install any number of additional shelves you need. These shelves can be installed in the kitchen to hold the utensils, in the bathroom to hold toiletry products, and anywhere else you find you yourself needing more space.

5. Use Negative Space
Negative Space is an artistic term which refers to unused space. In interior design lingo, it refers to the parts of the house that carry no decoration or purpose. You can use such spaces to store items where they will be out of the way.

6. Rent a Storage Space
If you find you have a number of large items that you do not really need anymore, but hold too much sentiment in your life to be discarded, you can think about renting out a storage room for those items. You can visit those items in storage whenever the mood strikes you or add it to your home if it eventually finds a place in your home's vision.

7. Decide What You Need
How do you decide what stays and what goes? This can be tricky, and only you can decide which items hold enough sentimental value for you to keep. List out the things that you will definitely need in your new home and what can be left behind. From the second list, start getting rid of the items that hold no practical or sentimental value in your life.

8. Donate to Charity
At this point, you probably have a large stack of items that you have decided to get rid of. Remember, just because it's not useful to you does not mean it won't be useful to others. You can donate some of the items to charity or pass them on to family members.

9. Learn to Let Go of Junk
All these tips will be of no use if you start accumulating junk immediately afterwards. Learn to identify which of your new possessions are of use and which are not, and then resolve to dispose of the rest Learning to get rid of items that offer no value to you will make your home cleaner and offer more space for items that you do value!
Using these tips will help ensure your Sarasota move into your new residence goes off smoothly, and your belongings are kept in a more compact and orderly state than ever before!