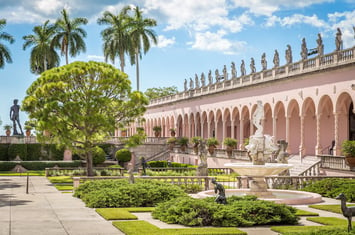 Sarasota is a lovely place all year long. With an average temperature in the 70s, it is easy for retired individuals to stay active any season of the year. There are plenty of cultural activities to explore in the area. Here are just a few activities both locals and visitors love to enjoy.

Related Blog: How to Live Stress-Free After Retirement
John and Mable Ringling Museum of Art
This museum allows you to marvel at huge paintings created by the Flemish Baroque painter Peter Paul Rubens, along with many other masters. You can see rotating exhibits that include contemporary photography, urban street painting, and more. Since exhibits rotate through, you can visit the museum often and rarely see the same thing twice. The Circus Museum sits adjacent and shows you the old-fashioned troubadour lifestyle that acrobats once had when they traveled with the Ringling circus as part of the "Greatest Show on Earth."
The Historic Asolo Theater
This theater is an extension of the Ringling experience. It is located on the grounds of the Ringling Museum where you can soak in a theatrical production in an ornate venue. The architectural art is enough for anyone to enjoy, while also being entertained by the visual arts on stage at the same time.
Van Wezel Performing Arts Hall
This hall is a vibrantly, purple-painted venue that hosts a large number of events throughout the year. See the Sarasota Opera at the Van Wezel, or catch the Sarasota Orchestra for instrumental music. Other performances by the the Sarasota Ballet and the Fuzion Dance Artists are also available. The list goes on as Broadway shows come in and out of the arts hall, as well as large scale singers like Billy Idol and many others.
Special Events
Sarasota draws over four million visitors every year, so there are always special events going on to further round out your cultural experience. You can catch the Sarasota Film Festival, the Sarasota Music Festival, Blues Fest, or the Ringling International Arts Festival. There are a variety of smaller theater venues throughout the city that constantly have new shows and entertainment options as well.

These activities and events are just a few of the cultural options Sarasota has to offer. It is easy for visitors to find plenty to do in the area. It is also simple for you to explore the cultural arts and never run out of things to do at your luxury retirement community.