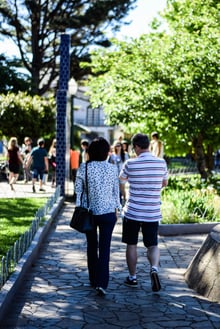 For many seniors, age is just a number. Retirement is the time to do all the things you never did, or you just never had the time. If you're looking for additional ideas about what to do with a group of friends, LoveToKnow offers some suggestions that will give your group some ideas to put a plan in place. Right here in Sarasota, there are fun ideas for group entertainment and fun.
Related Blog: Cultural Activities to Explore in Sarasota
Group Activities Seniors Enjoy
Enjoy an Afternoon or Evening of Musical Magic
Not only can you enjoy a musical ensemble at the Sarasota Orchestra, but you also have a variety of venues to visit throughout the year. There are exceptional performances on the schedule. You will see under the FAQs page, you can "receive 20% off for groups of 20 or more." Just contact their "Box Office at (941) 953-3434."
You may also enjoy volunteering with a group of friends and get more involved with the Sarasota Orchestra. There is nothing more special than volunteers helping these dedicated musicians share their talents.
Head out to Sea to Dine in Sarasota Bay
There is nothing better than breaking bread and sharing toasts with good friends. Gather a group of seafaring friends for a relaxing cruise around the Sarasota Bay on the Marina Jack II. You can go out for a sightseeing lunch or a sunset, dinner cruise. Be sure to toast to good health, good times, and great friends.
Be Creative as You Paint and Party with Friends
Whether you can paint or not, a fun event for almost any age is creating your own unique artwork. Since you're at least over 21, you can also enjoy sipping your favorite beverage. Oh yeah, you can "bring your favorite wine, beer, soda, snacks, etc. and join the party at Painting with a Twist. It might be the time to see if you're an artist, and you never knew it!
Spend Time in a Sarasota Jungle
Don't worry, you won't get lost, but you will have a lovely time strolling around with friends at the Sarasota Jungle Gardens. The 10+ acres offers beautiful "botanical plantings along with bird and animals shows." There is a group rate for groups of 10 or more.
Group Activities at Sarasota Bay Club (SBC)
The Sarasota Bay Club's location offers our residents an array of choices for having fun right here on our campus. We're "perfectly located on the bay front, just minutes from all the shopping, dining, and entertainment," that makes our location so special and unique.
Monthly Calendar of Activities
Along with a luxurious retirement lifestyle, the calendar is always full of activities to enjoy with a group of SBC friends. We have exceptional amenities that offer excellent group fun, such as Card Game Rooms, Billiards Room, Art Studio, Woodworking Shop, and so much more.
Private Parties with SBC Friends
If you want to celebrate a special occasion with your SBC friends and neighbors, we have Private Dining Rooms for group celebrations. You can always enjoy friendship time in our Full Bar and Lounge.
Bus Trips to Shopping and Events
We have a Community Bus, and we schedule shopping and activities trips that may just take you to one of the activities mentioned earlier. We're always looking for something new for group fun.
Luxurious Lifestyle with Freedom
Come explore the lifestyle our Sarasota Bay Club residents enjoy every day. You will see an exceptional way of living right here on our campus, and you have the freedom to do whatever you want. Our mission is to make each day "as full, or relaxing, as you want it to be."