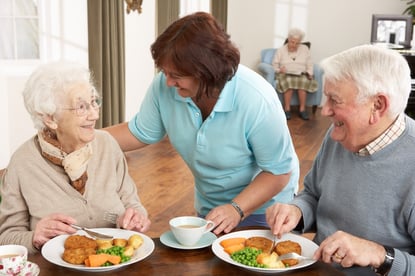 You want to visit your loved ones at the assisted living community in Sarasota, FL as often as possible, but hotels are expensive and there are not any other family members in town. Sarasota Bay Club solves this problem for you by way of guest rooms.
Related Blog: 10 Fun Facts about Sarasota Bay Club
Sarasota Bay Club offers their residents an unprecedented luxury style of life that comes with an abundance of services. While they are lovely perks, what most retired individuals really want is visits from family members and friends. And that's why Sarasota Bay Club has opened up guest rooms, so residents can have guests from out of town conveniently stay right here on the property.
There are many advantages to staying at Sarasota Bay Club when you are in town visiting a loved one residing in the independent living community. Here are just a few:
Proximity
Sarasota, FL has plenty of places to stay and plenty of things to see and do, but when you come to visit your loved one, you want to be as close to them as possible so you don't waste time going to and from locations. When you stay at Sarasota Bay Club, you're already on the property.
An Inside Look
When you stay at Sarasota Bay Club as a guest, you get to see what daily life is like for your loved one. You stay in a room similar to theirs, eat meals they enjoy, and see what the community is like on a regular basis.
A Taste of Luxury
Sarasota Bay Club is a luxury retirement community, therefore you get much more than a simple hotel room. If you are using your time away from home as a vacation, you will enjoy your stay at the independent living community in a resort town.
There are plenty of hotel rooms and other options when you are visiting someone in Sarasota, FL. But if you want the full experience in close proximity, staying at Sarasota Bay Club with your loved one is the best option. Guest rooms are available for out of town guests any time of the year.